A chip-scale optical device could hold the key to breaking up bandwidth bottlenecks in wireless communication. The new device provides radio frequency (RF) control at sub-nanosecond time scales.
Given the proliferation of wirelessly-connected devices—last year, Cisco estimated 10 billion mobile devices—bandwidth could quickly become a scarce resource. Improving bandwidth allocation is one solution.
Researchers at the University of Sydney's ARC Centre for Ultrahigh Bandwidth Devices for Optical Systems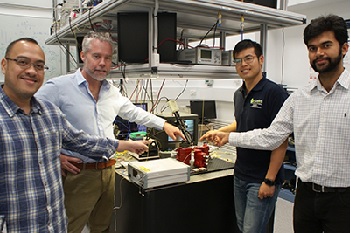 Researchers David Marpaung, Benjamin Eggleton, Yang Liu and Amol Choudhary pointing at a thumbnail-size chip being evaluated in the broadband microwave testbed, inside the Sydney Nanoscience Hub. Image credit: University of Sydney(CUDOS) took on the challenge to develop solutions to the lack of high tuning speed in current RF techniques. Existing chip-based optical controllers achieved only low tuning speeds; they are complex to fabricate and consume a lot of power.
The ability to introduce rapid control to RF signals would free up more bandwidth for wireless users. "The ability of rapidly controlling RF signal is a crucial performance for applications in both our daily life and defense," said lead investigator Yang Liu. Reducing power use is an additional research goal.
Liu and his team developed a simple technique using optical control with a response time of a billionth of a second. By optically varying the control signal at gigahertz speeds, the time delay of the RF signal can be amplified and switched at the same speed.
These capabilities are available on an integrated photonic chip. In the future, reconfigurable on-chip RF systems are possible, with low power consumption and low fabrication complexity.