The first HVDC link in India featuring state-of-the-art voltage-sourced converter (VSC) technology will be built by Siemens, Germany and Sumitomo Electric Industries Ltd. of Japan. Indian transmission operator Power Grid Corporation of India ordered the 200 km long HVDC connection, which is scheduled to go into operation in the first half of 2020.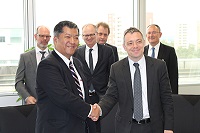 Mirko Düsel, CEO of the Transmission Solutions Business Unit at Siemens Energy Management, and Masaki Shirayama, Managing Executive Officer at Sumitomo Electric, at the signing ceremony in Erlangen, Germany.
VSC is the latest innovation in HVDC technology offering stable and highly flexible reactive power control independent of active power control and additional features to support AC systems like blackstart capability. This solution is ideal for use with XLPE cable technology, which is to be supplied by Sumitomo Electric. Siemens will deliver two converter stations with two parallel converters, each rated 1,000 MW, featuring its VSC HVDC technology. Siemens will also provide converter valves, transformers, cooling systems and control and protection technology.
The new transmission link will support major initiatives of India's Ministry of Power to achieve '24 x 7 Power for All' in the country. The Pugalur-Trichur ±320 kV HVDC system will connect Pugalur in the southern state of Tamil Nadu to Trichur in Kerala State in southwestern India. Power will be transmitted from the Pugalur converter station via an overhead line to the transition station. The Trichur converter station will be connected via underground XLPE HVDC cable to a transition station also being built by Siemens.