Electronics and Semiconductors
Versatile Inertial Sensors for Tomorrow's Autonomous Autos
29 March 2017
Sponsored content
In autonomous vehicles it is important to know not only the vehicle motion, but also vehicle position in the road. GPS can be used for localization but it has certain limitations. At slow speed the heading determination is challenging and in an urban canyon environment the GPS signal can be blocked or have interference.
Autonomous vehicles must rely on an inertial measurement unit (IMU). The IMU provides a continuous stream of data related to the vehicle's linear acceleration on three principle axes, together with three sets of rotation parameters (pitch, roll and heading).When IMU data is fused with GPS signal localization, accuracy and robustness against external disturbance can be improved significantly.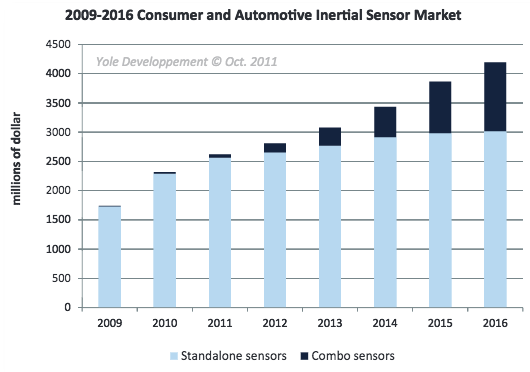 Where most autonomous systems today use expensive fiber optic gyro (FOG) technology, Murata, as a performance leader in MEMS sensors, has the technology to bring the high performance IMU cost down to acceptable levels so that it can be used in the mass production of autonomous vehicles.
Murata is a major supplier of automotive inertial sensor products that are qualified to be used in safety critical applications. Murata's gyro and accelerometer technology, based on 3-D MEMS, feature:
Excellent performance even in harsh and vibrating environments
Failure detection, digitally activated self-test, calibration memory parity or check sum check and continuous connection failure detection
Can support any mounting orientation
Over the past few years, combo sensors are gaining traction. Just as MEMS technology reduces costs dramatically, combo sensors could further lower cost and footprint by combining the two sensors into one package with a single ASIC. Initially, combos are being used in electronic stability control but can be used also to support autonomous driving. Cost reduction results from the combination of the accelerometer and gyroscope in one package with one ASIC.
Murata is a global market leader in inertial sensors for ADAS applications. Murata's sensor offerings will continue to evolve in the marketplace — from road safety improvement to user interface applications that further take

advantage of its vast expertise in high-performance inertial sensor technology.
Murata Manufacturing Co., Ltd.
Find Free Electronics Datasheets