A conformable wearable device was designed by Georgia Institute of Technology, Emory University and Wichita State University engineers to facilitate wireless long-term health monitoring of adults, children and babies.
Stretchable electronics are linked to gold electrodes through printed connectors to capture electrocardiogram, heart rate, respiratory rate and motion activity data, and transmit it up to 15 m to a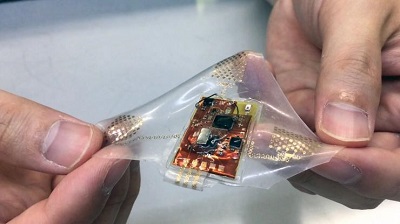 A wireless, wearable monitor built with stretchable electronics could allow comfortable, long-term health monitoring of adults, babies and small children. Source: John Toon, Georgia Institute of Technologyportable recording device, such as a smartphone or tablet computer.
The 3 in diameter monitor uses three gold electrodes embedded in stretchable substrate that also contains electronic processing equipment and a rechargeable battery. One prototype is based on medical tape and is designed for short-term use in a hospital or other care facility, while another uses a soft elastomer medical film approved for use in wound care and can remain on the skin longer.
The soft, stretchable monitor described in Advanced Science eliminates the risk of skin injury or allergic reactions caused by conventional adhesive sensors with conductive gels. Since it conforms to the skin, the device avoids signal issues that can be created by the motion of metal-gel electrodes across the skin. The sensor will be valuable in the ambulatory monitoring of children and in evaluating older adults who may have sensitive skin.
Future design goals include reducing the size of the device, replacing the battery with an external RF charging system and the capability to monitor temperature, blood oxygen and blood pressure.