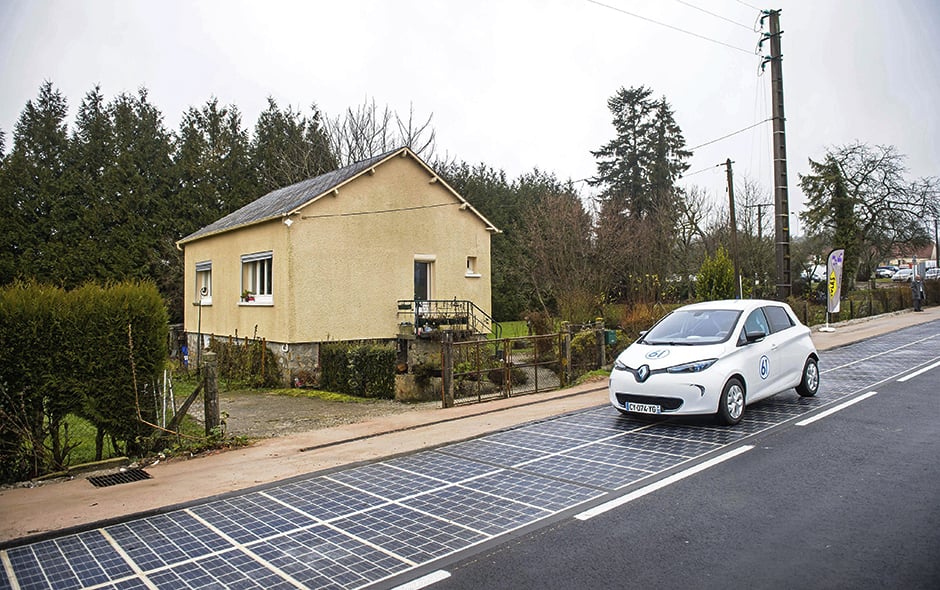 Solar road. Credit EFEA year ago, France's Ecology and Energy Minister Ségolène Royal announced that within five years it was planning to pave 1,000 kilometers of roads across the country with solar cells. Well, this week the project was inaugurated with its first kilometer "paved" with photovoltaic panels. This first kilometer of road premiered in Normandy and is covered by 2,800 square meters of solar panels, which are able to generate the necessary energy for the operation of the public lighting system of the town of Tourouvre-au-Perche, with 3,400 inhabitants.
The idea behind this project by the French government is to be able to promote sustainable energy and use this technology to supply power to homes or public infrastructure systems, especially in those sectors where distribution is more difficult. Making the project viable is the fact that between 10 and 20 percent of the time the roads are covered by the transit vehicles while the rest of the day time the surface is open to solar energy. In addition, the roads provide an opportunity to take advantage of the solar energy without having to invade the agricultural surface or to modify the natural landscapes.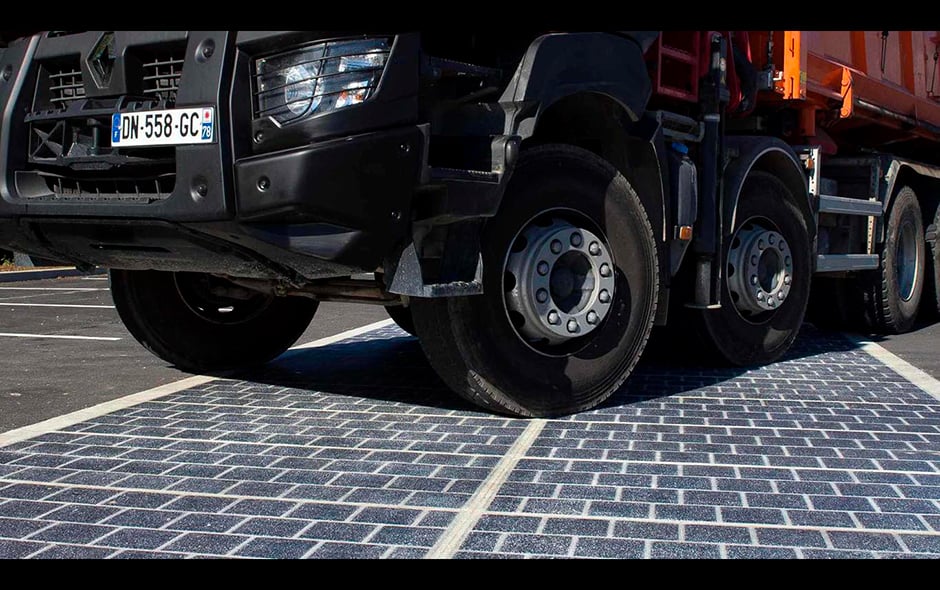 The panels can withstand heavy vehicles. Credit: Colas
This technology is the product of five years of research by the company Colas, subsidiary of Bouygues, in collaboration with the French National Institute of Solar Energy (INES). Colas manufactures the panels that form the—what they call—Wattway, a term that implies the road's capabilities to produce electricity. The panels are very thin (a few millimeters thick) and can be installed on top of any road surface without any additional civil engineering work, and can withstand all types of vehicular traffic. Every 20 square meters of panels can supply power to one house (not including heating).
"Today, our Wattway process is unique on a global level. The Solar Road will play a part in the energy transition and is a building block for smart cities," said Colas chairman and CEO Hervé Le Bouc. This technology can be construed as a next technological step for the roads of the future.
"The roads of the future will be intelligent and able to communicate thanks to widespread development in sensors making it possible to provide real-time information on traffic, to manage traffic dynamically and to roll out automatic diagnosing programs in the pavement itself. One can also imagine electric vehicles being charged via induction technology," adds Le Bouc.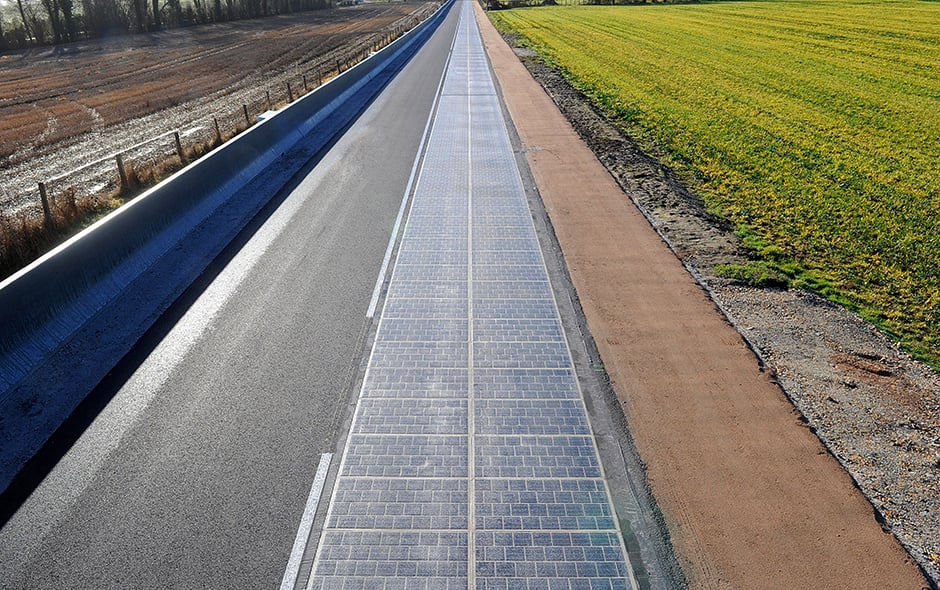 Solar road in Normandy. Credit: COLAS-Yves SoulabailleThis first project, however, should be taken with a grain of salt. At present, the great disadvantage of this technology is its high cost, something that manufacturers intend to change over time, as their production increases and their use becomes more massive.
"This is a prototype that still has to answer several questions: its cost over time, its production and its lifetime given its conditions of use," said Jean-Louis Bal, president of the Union of Renewable Energies of France. "At the moment, with this technology, producing one watt costs 17 euros while photovoltaic plants on the ground manage to reduce the cost to about one euro per watt. It's still early, we're waiting to see how it evolves."
However, the great advantage of this technology is that the electricity produced can be connected directly to points of local consumption, such as traffic lights on the road where they are installed, or can even be connected to a distribution network or storage energy. In any case, the first step of this ambitious project is already taken. The first kilometer of road built will benefit 3,400 people with self-sustaining energy. It now only remains to be seen what can be achieved with the next 999 km to be built. Depending on that outcome, perhaps this initiative is an alternative worth emulating in several countries.