The hunt for the next great battery rages on as lithium-ion batteries do not contain the necessary energy to power widespread use in the smart grid and to power electric transport systems.
Researchers at the University of Delaware are taking strides to improve the stability of lithium-sulfur batteries as a possible alternative to standard lithium-ion in anything from smartphones, tablets, fitness trackers and larger systems such as the smart grid, transportation and energy storage applications.
Lithium-sulfur batteries have an energy density that is five times higher than that of lithium-ion batteries and have a low-cost advantage. The problem with current lithium-sulfur batteries is that the amount of charge these batteries can deliver at the rated voltage decreases significantly with use.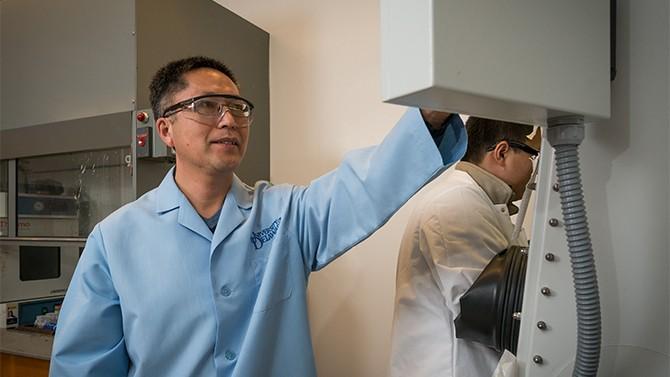 University of Delaware professor Bingqing Wei works toward building a better lithium-sulfur battery. Source: University of Delaware The University of Delaware has demonstrated a new polysulfide entrapping strategy that greatly improves the cycle stability of Li-S batteries. The addition of ferroelectric nanoparticles into the battery cathode anchors the polysulfides, preventing them from dissolving and causing the loss of active materials at the cathode.
"While the mechanism underlying the trapping of polysulfides is unclear at this point, we're optimistic about the potential of this approach to high-performance lithium-sulfur battery applications, as it not only solves the problem of the polysulfide shuttle effect but also can be seamlessly coupled to current industrial battery manufacturing processes," says Bingqing Wei, professor in the Department of Mechanical Engineering at the University of Delaware.