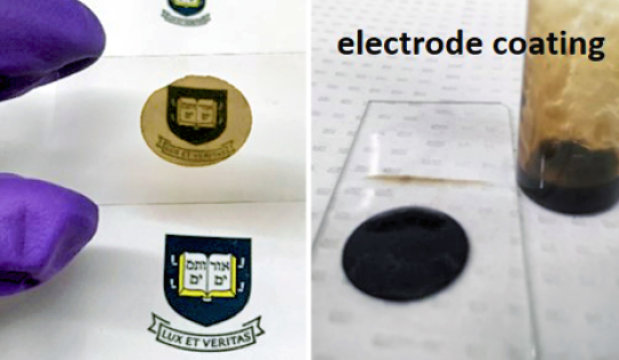 Image Courtesy of YaleNewsResearchers have developed an ultrathin dendrimer-graphene oxide film that has the potential to extend the
life, and improve the efficiency of lithium-sulfur batteries according to a recent article in the Proceedings of the National Academy of Sciences (PNAS). Sulfur cathodes coated with the material can be stably discharged and recharged more than 1,000 times.
Although lithium-sulfur batteries have higher energy density and are made from cheaper materials than more common lithium-ion batteries, they gradually become unstable as they are repeatedly charged and discharged. Ions of lithium react with sulfur to form compounds that migrate and clog the cathode surface. The team made a film from graphene and organic dendrimer with a thickness of 90 nanometers that kept the lithium-sulfur compounds from leeching into the electrolyte and degrading the battery over time.
"Our approach is general in that it can be integrated with virtually any kind of sulfur electrode to increase cycling stability. The developed film is so thin and light it will not affect the overall size or weight of the battery and thus it will function without compromising the energy and power density of the device," said Hailiang Wang, assistant professor of chemistry at Yale, faculty member at the Yale Energy Sciences Institute at Yale West Campus.
The researchers noted that they are still in the preliminary stages of this work and are now working on ways to improve the performance of lithium-sulfur batteries even further.
"From there, we can design new materials with even better performance," said co-author Ke Yang, also a postdoctoral researcher at the Energy Sciences Institute.