Vertical farming is doing for the agriculture industry what high rises have done for housing in giving farmers a new way to create harvests at a fraction of the space that horizontal farms use. Additionally, vertical farms are accomplishing harvests in major cities where transportation to stores is greatly reduced leading to a decrease in fossil usage and travel time.
Vertical farming allows for the stacking of plants on top of one another in racks in warehouses or other locations rather than in a sprawling field. Many farms are using abandoned buildings that have been converted for re-use. Farmers say this leads to more farming and more production per footprint of location.
Vertical farms are also not at the mercy of weather as they are indoors. Harsh environmental conditions such as drought or smog are also not a consideration. And because plants are grown in a controlled environment, farmers are able to better control runoff and fertilizers being leaked into public waterways, helping keep the environment clean.
Other benefits to vertical farming include the reduction in the use of water through different farming techniques like hydroponics, where plants are grown in nutrient-rich water without dirt, and aeroponics, where roots are sprayed with nutrient-rich water saving even more water.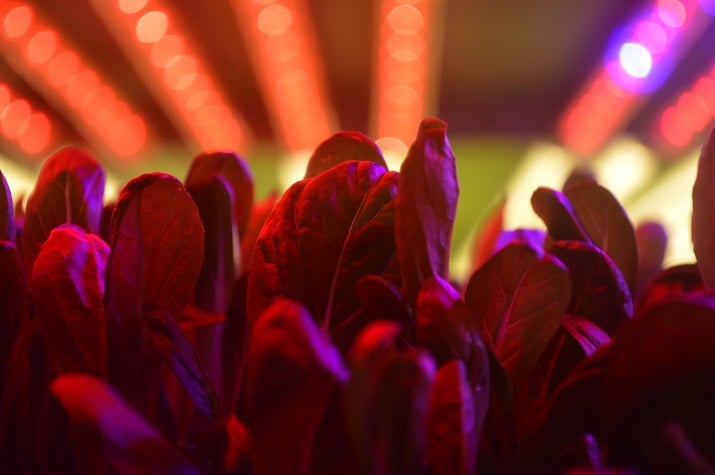 AeroFarms uses abandoned buildings for its vertical farms as well as color patterned LED lighting to match each plant with the best lighting for growth. Source: AeroFarms While vertical farming does offer many environmental and yield benefits, it does require more energy as these farms use electricity to run air circulation systems, water pumps and sensors. Add to this the need to include lighting in order to mimic sunlight and energy costs can be rather high.
While traditional lighting is used in some cases in vertical farming, more farmers are turning to light emitting diodes (LEDs) as the source because they have the benefit of not giving off extreme amounts of heat, they use much less energy than traditional lighting and LEDs can be crafted to put out specific colors of light meaning farmers can adjust the light to however plants like the light the best to encourage growth.
AeroFarms
One company developing a vertical aeroponic farm is AeroFarms. The farm uses technology to mist the roots of the greens with nutrients, water and oxygen in a closed loop system. AeroFarms says it accomplishes yields using 95 percent less water than field farming and 40 percent less water than hydroponics without the use of pesticides. The company also uses LED light to a specific color recipe for each plant giving them the right mix of spectrum, intensity and frequency for photosynthesis.
Based out of Newark, NJ, AeroFarms claims to be the largest indoor vertical farm in the world with a converted former steel mill measuring 70,000 square feet with a harvest of up to 2 million pounds per year. The company has additional farms for research and development, converted out of an old nightclub, a 30,000 square foot farm made from an old paintball/laser tag facility and an educational farm for teaching students at a New Jersey charter school.
Growing Underground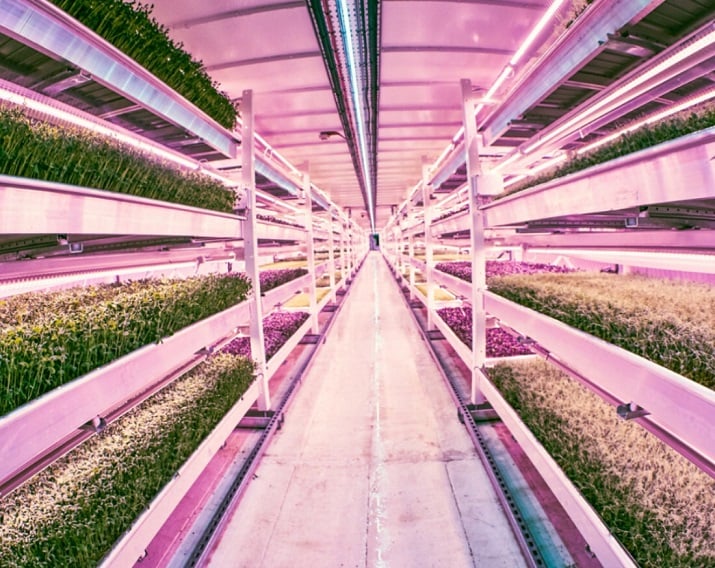 Growing Underground uses a converted World War II bomb shelter as the set up for its underground vertical farm. Source: Growing Underground Billed as the first underground farm in the world, Growing Underground set up shop in an abandoned bomb shelter that was used during World War II to escape the bombings by the Germans with capacity to keep safe some 8,000 people. Now, the same bomb shelter is being used to grows herbs, pea shoots, radishes, celery, parsley and more.
Growing Underground uses vertical farming to produce crops below ground in a sealed clean-room environment with the help of advanced LED lighting and a connected irrigation and ventilation system. Growing Underground touts that it has a zero effect on the environment and it is using energy that is sourced by nothing but green suppliers.
The company is already shipping produce to local London stores and restaurants. Just this month, the company signed on Ocado, a major supermarket chain in the U.K., as a customer. This is the first urban farm to bring its branded product to market via Ocado. Growing Underground plans for further expansion to more stores in the U.K. later this year.