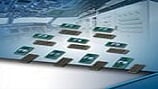 AVX Corporation has released a series of low profile, high pass filters with best-in-class performance. Based on AVX's patented and proven multilayer organic (MLO®) high density interconnect technology, the HF Series of MLO high pass filters utilize high dielectric constant and low loss materials to help engineers integrate high quality passive printed elements, such as inductors and capacitors, in multilayer stacks with land grid array surface mount packaging that's expansion-matched to most organic printed circuit board materials, providing improved reliability over standard silicon and ceramic devices.
Exhibiting low insertion loss, excellent rejection of out of band frequencies, low parasitics, favorable heat dissipation characteristics and 50 ohms impedance, the HF Series filters feature an ultralow maximum profile height of 0.559 millimeters, and support both a wide frequency range (0.74 to 2.83 gigahertz) and several wireless standards, making them ideal for use in a variety of wireless applications, including: mobile communication devices, global positioning systems (GPS), vehicle location systems, wireless local area networks (LANs), satellite receivers and instrumentation.
Restriction of Hazardous Substances (RoHS) compliant and lead-free, the HF Series of MLO high pass filters are currently available in five case sizes with varying lengths (6.579 ±0.05 millimeters, and 7.785, 8.674, and 10.198 ±0.254 millimeters) and fixed widths and heights (3.97 and 0.559, ±0.254 millimeters), and are supplied with gold terminations that are compatible with automatic soldering technologies including: reflow, wave soldering, vapor phase, and manual. The series is rated for operating temperatures spanning –55 degrees Celsius to +85 degrees Celsius, is 100 percent tested for electrical parameters, and can be shipped in waffle or bulk packaging. Lead-time for the series is stock to 14 weeks.