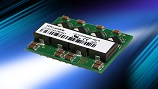 TDK Corporation has introduced the 100 A TDK-Lambda iJC series of POL (Point of Load) non-isolated DC-DC converters. Being PMBus™ compliant and featuring digital control, these converters provide better dynamic performance, improved system stability and allow a great deal of flexibility and customization to the end application's needs.
Operating from an 8 to 14 VDC input, the iJC series can provide output voltages from 0.6 to 1.5 V, with a set point accuracy of 0.5 percent. The series is designed to meet a wide range of applications, including servers, routers and other Information & Communication Technology (ICT) equipment, semiconductor manufacturing equipment, measuring equipment and general industrial equipment.
The surface mount converters occupy only 1.5 square inches of board space, representing an ultra-high current density of 66 A per cubic inch. Overall dimensions are 28 mm x 35 mm x 10 mm with a weight of just 20 g. Optimization of components using digital control enables a high current output in high temperature, low airflow environments. The iJC power module has a typical efficiency of 91.5 percent with a 1.5 V output, 12 V input and 80 percent loading.
The PMBus™ read-write functionality of the converter provides real-time, precision monitoring of voltage, current and temperature, and allows full programmability of the iJC parameters. Function setting pins make them easy to use in applications where PMBus™ communication is not implemented. A GUI (Graphical User Interface) and evaluation boards are available for development support.