Energy storage systems have garnered mass appeal in solar powered systems because the idea of storing electricity during the day to use during peak times at night will save consumers money by not having to rely on the electricity grid.
However, new research from the University of Texas at Austin reveals that storing solar energy for nighttime use actually increases both energy consumption and emissions compared to sending excess solar energy directly to the utility grid.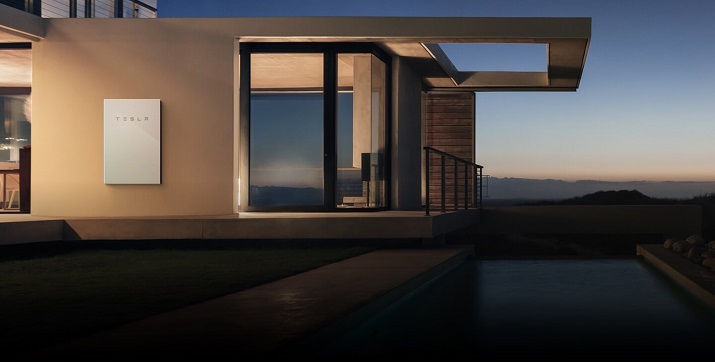 Energy storage systems such as Tesla's Powerwall combined with a solar system promise to save consumers money on utilities but may increase energy consumption and emissions according to a new study. Source: Tesla The research is interesting considering the energy storage market is growing rapidly with numerous companies—from Tesla Motors, to LG Chem, to NEC, to Toshiba, to Redflow and many more—rolling out their own systems to compete in what they believe will be a high-growth market.
The number of rooftop solar installations grew to more than 1 million U.S. households in 2016, according to the Solar Energy Industry Association and while interest in energy storage is high, few homes have an on-site storage unit to collect solar energy for use in the home.
"The good news is that storage isn't required to make solar panels useful or cost-effective," says Michael Webber, a professor in the Department of Mechanical Engineering and deputy director of UT Austin's Energy Institute. "This also counters the prevailing myth that storage is needed to integrate distributed solar power just because it doesn't produce energy at night."
The university studied energy storage electricity data from almost 100 Texas households and found that storing energy for nighttime use increases a household's annual energy consumption (compared with using solar panels without storage) because storage consumes energy every time it charges and discharges. Researchers estimate that solar panels with an energy storage system increase consumption by about 324 to 591 kilowatt-hours, or about 8% to 14% annually.
Furthermore, adding storage indirectly increases overall emissions of carbon dioxide, sulfur dioxide and nitrogen dioxide due to the increase in energy consumption required to account for storage inefficiencies. Despite the increase in emissions, researchers say solar combined with storage is still a lot cleaner than having no solar at all.
For grid-scale utility companies, energy storage can reduce the amount of electricity generation and deliver capacity reducing peak grid demand by 8% to 32%. "However, if the utility is interested in reducing emissions, incentivizing home storage is probably not a good idea," says Robert Fares, an American Association for the Advancement of Science fellow at the U.S. Department of Energy.
The University of Texas's analysis showed that storing solar energy today offers fewer environmental benefits than just sending it straight to the grid because of the energy lost to storage inefficiencies is ultimately made up with fossil-fuel electricity.
While these findings challenge the idea that energy storage is inherently clean "if we use the storage as the means to foster the adoption of significantly more renewables that offset the dirtiest sources, then storage—done the right way and installed at large-scale—can have beneficial impacts on the grid's emissions overall," Webber says.