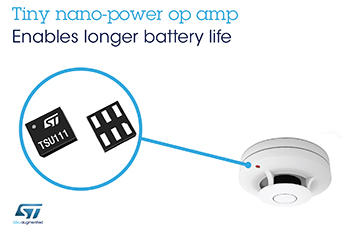 Image credit: STMicroelectronics
Electronics companies introduced nano-power operational amplifiers (op amps) to support device designs requiring ultra-low power consumption over the full operating temperature range. The idea behind the technology is to enable engineers to optimize power budgets and extend the operating life of batteries wherever quiescent current is a major concern.
One of the most recent additions to this field is STMicroelectronics' TSU111, which promises to increase sensing accuracy and help reduce the size and energy requirements of analog circuits in a variety of applications. Measuring 1.2 mm by 1.3 mm, the device delivers 900 nA typical current. The TSU111 targets applications such as medical monitors, wearable electronics, sensors and payment tags.
STMicroelectronics claims that the TSU111 outperforms other nano-power op amps, delivering 150 microvolts of input-offset voltage and 0.1 to 10 Hz noise of 3.6 microvolt peak-to-peak voltage. These features help to ensure high accuracy in signal-conditioning circuits.
The device also offers 11.5 kHz gain bandwidth and a rail-to-rail input stage, which positions the TSU111 for applications where the instrument monitors environmental and biological signals. With an input bias current of 10 pA, the device can minimize the effects of parasitic currents in sensing devices, such as gas detectors or photodiodes.
The low minimum voltage enables the device to run longer as the battery discharges and simplifies use in equipment powered by energy-harvesting systems. Because of its 1.5 to 5 V supply-voltage range, the op amp can be powered from the same supply rail as logic circuitry. This simplifies power-supply design and board layout.
The TSU111's low operating current is comparable to the leakage current of low-cost capacitors. STMicroelectronics contends that it would take over 25 years to discharge a 220 mAh CR2032 cell. As a result, the op amp can be incorporated into a design with minimal effect on overall system energy management.
STMicroelectronics' nano-power op amp comes in a 1.2 mm by 1.3 mm DFN6 package, or a 2 mm by 2.1 mm SC70-5 (SOT323-5) package.