In what promises to be a much-needed new weapon to combat the spread of drug-resistant bacteria, researchers at the University of California Los Angles (UCLA) have developed a simple and inexpensive smartphone attachment that can conduct antimicrobial susceptibility testing.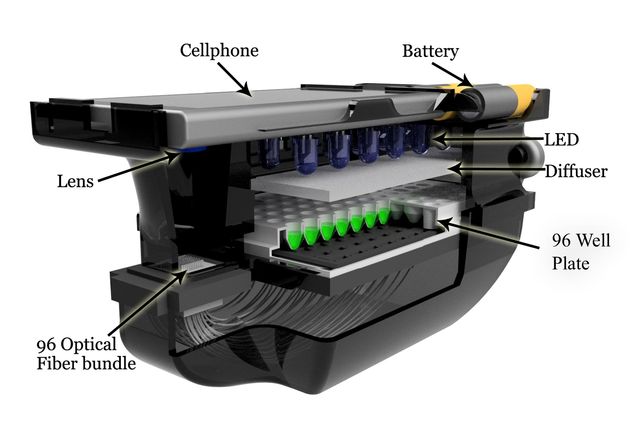 A schematic shows a smartphone and the diagnostic attachment for antimicrobial susceptibility testing. Credit: Aydogan Ozcan/UCLA Researchers believe the technology will prove particularly helpful in regions of the world that lack access to labs, testing equipment and trained diagnostic technicians, and where drug-resistant bacteria are a major public health threat. Such bacterial pathogens are responsible for high-mortality diseases such as pneumonia, diarrhea and sepsis, researchers say.
"This work is extremely important and timely, given that drug-resistant bacteria are increasingly becoming a global threat rendering many of our first-line antibiotics ineffective," said Aydogan Ozcan, professor of electrical engineering and bioengineering at the UCLA Henry Samueli School of Engineering and Applied Science. "Our new smartphone-based technology can help put laboratory-quality testing into much wider adoption, especially in resource-limited regions."
As explained by UCLA researchers, the device connects to a smartphone and has a plate that can hold up to 96 wells for testing. An array of light-emitting diodes (LEDs) illuminates the sample, and then the phone's camera is used to sense small changes in light transmission of each well containing a different dose selected from a panel of antibiotics. Images are sent to a server to automatically perform antimicrobial susceptibility testing, and the results are returned to the smartphone in about one minute.
The device was tested in clinical settings using special plates prepared with 17 different antibiotics targeting Klebsiella pneumoniae, a bacteria containing highly resistant antimicrobial profiles. A total of 78 samples from patients were used, and the results showed that the smartphone reader met the FDA-defined criteria for laboratory testing, with a detection accuracy of 98.2%.
"This mobile reader could eliminate the need for trained diagnosticians to perform antimicrobial susceptibility testing, reduce the cost barrier for routine testing, and assist in tracking of bacterial resistance globally," said Omal Garner, UCLA assistant professor of pathology and laboratory medicine in Health Sciences.