Browsing the latest TVs reveals features such as 3D, HD, UHD, 4K, Ultra, smart, curved, plasma and LED. However, virtually no TVs these days are marketed as liquid crystal display (LCD) technology, despite nearly every TV including it.
This was more prevalent when LCDs were powered by light emitting diodes (LEDs) or cold cathode fluorescent lamps (CCFLs). An LED TV is a specific type of LCD screen — in this case powered by LEDs.
Both kinds of screens utilize liquid crystals (state of matter) to produce a picture. The LCD panel regulates how the light will show on the screen. Such panels have a liquid crystal solution sandwiched between two polarized material sheets. The crystals orient so when electricity is passed via the liquid, the light can then pass through. However, the crystals will distort so when no current is passing through, the light from the backlight is contained.
Ultimately, the backlight is the chief difference between traditional TV technologies, one of several differences that have driven customers deeper into LED technology TVs.
First difference: Backlights
The most prominent difference is the technology used to illuminate the screen. The backlights in traditional, outmoded LCD TVs utilize CCFLs to generate lights. In LCD screens, the CCFLs are mounted uniformly behind the display to provide constant illumination throughout the display. This provides an even brightness level behind the entire display image.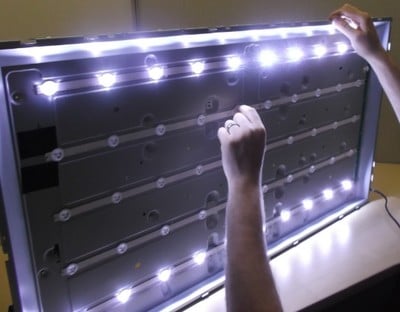 Rows of LEDs in this 32-inch LCD TV.
LED LCD screens use a stack of tiny LEDs to light up the screen, as shown in Figure 1. These LED strips are more efficient, produce high-quality images and are available in different backlighting configurations. The images produced by some backlighting LED arrangements will produce a more vibrant or better lit image than others.
Second difference: Placement of LEDs
In edge lighting, the LEDs are mounted on the edges of the display, instead of directly behind it. They may be placed on some or all sides of the display perimeter. Edge-lit displays have no local dimming abilities, which can help improve image quality in some cases. Edge-lighting allows manufacturers to create incredibly lightweight, cost-effective displays that are ideal for consumers on a budget. They cannot produce images of comparative quality, like the ones from full-array LEDs.
In full-array backlighting, the small LEDs are mounted uniformly in rows behind the entire display screen. The LEDs are positioned into zones, and LED zones can typically be individually addressed by the user to eliminate potential bright or dim spots in the screen. These spots are normal, and can vary based on screen location, ambient light and media played.
The ideal pictures have a high contrast ratio, which means that pictures are comprised of both extremely dark and extremely bright pixels at the same time. For instance, if a scene has a night sky in it, the corresponding image area can create an ideal dark image by dimming the LEDs in that region. This cannot be achieved on edge-lit LCDs, in which the whole image is illuminated equally. The display will create more reliable lighting with local dimming, which leads to improved image quality.
Third difference: Image quality
The ability of full-array LED backlighting is also what doomed CCFLs, for the most part. CCFLs need to run at a consistent temperature for optimal emission, with a consistent current draw. CCFLs are limited in how much they can be dimmed.
LED backlighting allows better contrast in the display with its easy dimmability, and LEDs are a more power efficient lighting type than fluoursecent.
It is worth noting that only a full-array LED screen produces superior images; this is not true with edge-lit LEDs. Edge-lit LED screens can sometimes produce images with quality even lower than CCFL LCD screens.
Fourth difference: Viewing angles
LED screens often suffer from a limited number of optimal viewing angles. As users sit further off-center from the screen, they will see more color shift, brightness loss and blackness effects in the image quality. Edge-light LEDs face problems of glare not common with full-array LEDs. The reason behind this is that the user will see more of the side lighting. This is a notable place where LED screens are still catching up to CCFL screens, which generally had a wider viewing angle.
LED screens have made tremendous progress on this front with in-plane switching (IPS) technologies, which orient the liquid crystal horizontally, so the image retains color quality in up to 170° viewing angles. IPS screens are some of the most expensive display technology per screen size, however.
Fifth difference: Size
In applications with display size and weight as determining factors, edge-lit LED screens are important. Full backlit screens have additional lighting, circuit and power needs, requiring a larger form factor. Both are improvements on the power demands and sizes of CCFL LCD technologies, which were more prevalent until about five to 10 years ago.
Conclusion

To this point in time, LED LCD TVs have outlasted competing technologies, such as CCFLs, and the totally different plasma. It is safe to assume that they will be the standard until a true disruptive technology comes about to displace LED. Modern, full-array backlighting TVs have the best set of power, size and picture trade-offs of the recent TV technology "wars," and consumers are better off for it.