A new robot developed by University of California (UC), Berkeley, roboticists opens new pathways of locomotion not previously attainable. Influenced by the anatomy of the galago, the world's most vertically agile creature, this small robot can leap into the air, spring off a wall, or perform multiple vertical jumps in succession, achieving a vertical agility of 1.75 meters per second.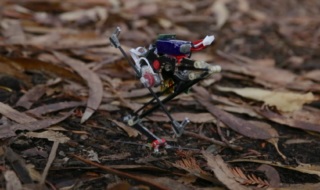 Salto, saltatorial locomotion on terrain obstacles, is small, agile and could be perfectly suited for search and rescue operations. / Photo credit: Stephen McNally The metric of vertical agility was devised by the UC Berkeley researchers to define the height that something can reach with a single jump in Earth gravity, multiplied by the frequency at which it can jump. The galago, for instance, can jump five times in four seconds, or a rate of 2.24 meters per second. The robot Salto—saltatorial locomotion on terrain obstacles—does not measure up to the lofty galago, but it does beat out the bullfrog, which can jump 1.71 meters per second. Salto possesses 78% of the vertical agility of a galago, 23% greater than any jumping prior robots.

Taking Inspiration from the Animal Kingdom
The UC Berkeley researchers knew a vertically agile robot would have to be patterned after an animal possessing the same trait. The question was: which one?

"Developing a metric to easily measure vertical agility was key to Salto's design because it allowed us to rank animals by their jumping agility and then identify a species for inspiration," said lead researcher Duncan Haldane, a robotics Ph.D. candidate at UC Berkeley, in a press release.

Like a galago, Salto uses power modulation, a system found in nature and designed into some robotic units, to achieve great heights without pausing between jumps. Power modulation increases the peak power available by storing energy in stretchy tendons—rather than muscles—when in a crouching position. Salto contains a motor that drives a spring, which loads via a leg mechanism, to create the crouch needed to jump multiple times in quick succession.
Applications for Extremely Agile Robots

The small and agile robot weighs just 2.5 ounces, measures 10.2 inches tall when fully extended, and can jump up to one meter at a time. With the ability to leap across uneven terrain and cover a large amount of height and area in a short amount of time, Salto could potentially be used in search and rescue missions.