ON Semiconductor will introduce a comprehensive development resource for the wearable electronics sector at CES 2017. The Wearable Development Kit (WDK1.0) combines a wide array of highly optimized components, with the objective of assisting OEMs in bringing differentiated products to market. Using it can significantly accelerate design cycles for wearable electronics while mitigating heavy engineering costs.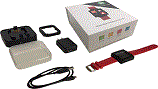 Wearable Development Kit (WDK1.0) combines a wide array of highly optimized components to help OEMs bring differentiated wearable products to market. For this new offering, a high-efficiency, programmable NCP6915 Power Management IC provides 5 LDOs and 1 DC-DC to support power requirements for the smartwatch and for additional development requirements. An NCP1855 battery charger IC, an LC709203F fuel gauge, and a 10-watt (W)-rated SCY1751 wireless charging front-end controller (supporting AirFuel-compatible magnetic resonance charging) have also been incorporated. The kit's sensor capabilities stem from the MEMS-based FIS1100 inertial measurement unit (IMU), with three‐axis gyroscope and three‐axis accelerometer operation, enabling accurate multi-dimensional motion tracking. There is also an embedded temperature sensor and an LC898301 driver IC for initiating haptic feedback.
Critical to the WDK1.0 is its wireless connectivity, which is addressed via an ultra-low-power nRF52832 multi-protocol system-on-chip (SoC) from Nordic Semiconductor. This features a 32-bit ARM® Cortex™ processor core and a 2.4 GHz transceiver—offering support for Bluetooth Low Energy (BLE) and other relevant wireless technologies.
The kit is complemented by a SmartApp that can be downloaded directly from Android PlayStore and Apple AppStore. By using the application, various pieces of information can be transposed, such as the number of steps taken, calories burnt, distance covered and activity period, as well as human-machine interface aspects like screen brightness adjustment, clock face control, alarm settings and establishing fitness goals. An Eclipse-based IDE accompanies the kit. This presents engineering teams with all the resources they need to rapidly create and subsequently debug code necessary for designs. A highly intuitive Project Wizard further facilitates the development process, by giving engineers access to numerous useful wearable-related project examples.
The WDK1.0 solution also has a 1.44-inch format, 128 × 128 pixel TFT display that integrates a capacitive touchscreen. A 26‐pin expansion port complements all the other elements in the kit. This allows ample provision for further additions to the system design, such as a supplementary microcontroller, signal processing or GPS functionality, the inclusion of more sensors, or the specification of a different display. Hardware schematics and Cadence EDA design files are also made available.