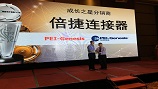 PEI-Genesis was awarded an "Excellent Electronic Component Distributor Award" in the category of "Rising Star" by Electronics Supply and Manufacturing-China (ESMC). The survey results and awards were presented at ESMC's annual Supply Chain Forum held in October. Awards were presented in eight categories ranging from Top 10 Local Distributors, to Best Logistics, to Outstanding Executive of the Year. The Rising Star Award is given to companies with revenue growth higher than the industry average and a business or service innovation.
ESMC began giving the Excellent Electronic Component Distributor Awards in 2001 with the aim of commending distributors that are highly recognized in the industry. This year a panel of industry analysts and many ESMC readers voted for China's most preferred distributors.
In May of 2015, PEI-Genesis opened a 54,000-square-foot production facility in Zhuhai, China, to bring its unique build-to-order service model for high reliability, harsh environment connectors to the Chinese market. The sales team and operational staff will grow to over 40 in 2017.