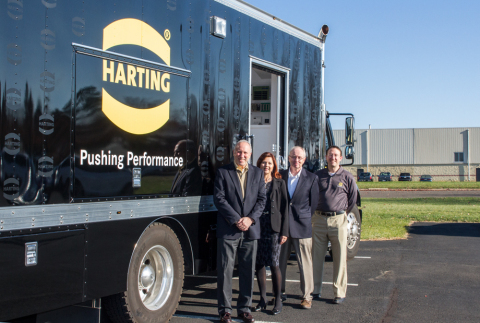 Credit: PEI-Genesis/HartingOften it is logistically or financially impossible for engineers, distributors or customers to attend trade shows.
Harting and cable and connector assembly house PEI-Genesis have cooked up a way to bring the tradeshow to individual companies with its Roadshow Truck, a mobile tradeshow where distribution partners and manufacturer representatives can experience the latest technologies and trends in the electronics market.
The truck is equipped with product stations such as industrial connectors, small form factor industrial and communications connectors, push-pull connectors, service ports for Ethernet and USB, industrial Ethernet patch cords, board level connectors and RFID products. The displays are customizable to match whatever host is being visited with touchscreens for videos, photos and demonstrations.
PEI-Genesis hosted the Roadshow Truck at its headquarters in Philadelphia last week, which was parked outside the PEI-Genesis doors, where more than 60 members of the company's team and customers learned about connector offerings.
The truck, which first began touring in the summer of 2015, logs about 50,000 miles a year traveling throughout the U.S. and Canada.