In today's world of a vast array of mobile devices, millions of people worldwide use batteries to power smartphones, tablets, Go-Pros, drones, robots, lawn mowers and cars.
But lately, these batteries have proven to be problematic because of their tendency to heat up beyond a safe point—hurting many consumers along the way.
Engineers at Iowa State University are working on a method that would help make batteries in these devices safer and potentially more powerful. The technology uses glassy solids as the electrolytes in batteries.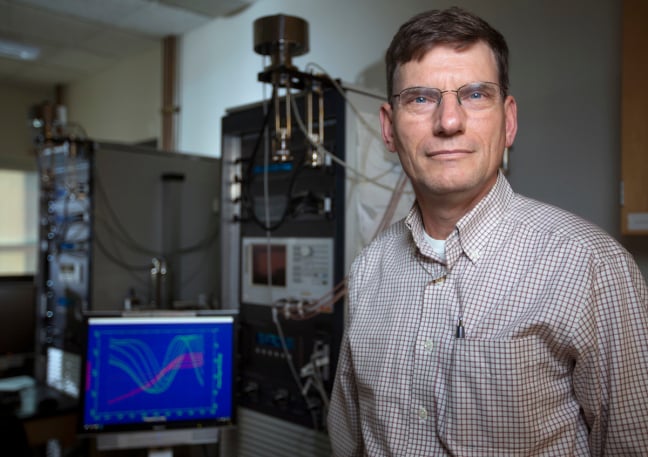 Steve Martin, a professor of engineering at Iowa State University, and his team have developed lithium-ion batteries filled with glassy solids for better performance and safety. Source: Iowa State University Battery electrolytes allow ions—atoms that have lost or gained electronics and are then positively or negatively charged—to flow back and forth between a battery's electronic-accepting cathode and electronic-losing anode. The result is an electrochemical reaction that produces electricity to power devices and electric vehicles.
The problem is the use of organic liquid electrolytes in lithium-ion batteries, said Steve Martin, professor of engineering at Iowa State and an associate for the U.S. Department of Energy. Martin says the batteries are as chemically reactive as gasoline and as such, can catch fire. To make these lithium-ion batteries safer, manufacturers cut the energy levels inside the batteries to a fraction of its theoretical maximum energy density.
Martin and the Iowa State engineers believed a solid electrolyte would be a better and safer way to build batteries -- but the challenge is moving the ions through solids. Using certain sulfide glasses, the team was able to accelerate the conductivity of the solid glass in the electrolyte in order to produce low-cost, high-performance and stable lithium-ion batteries.
"And so maybe you're recharging your device every week instead of daily," Martin said. "Or maybe an electric vehicle that can now go 40 miles on a charge will be able to go 200 miles."
In order to further study into this new type of battery and possibly bring a product to commercial production, Martin garnered a three-year, $2.5 million grant from the U.S. Department of Energy's Advanced Research Projects Agency.
"Our goal is not just to make safer batteries, but also to increase energy capacity," said Martin. "We think we can increase capacity by a factor of 10."