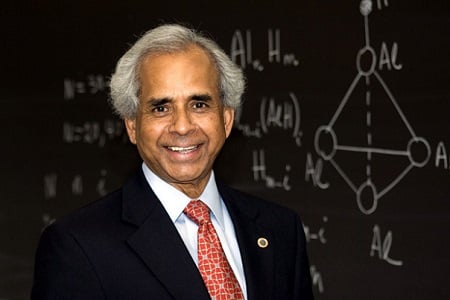 Puru Jena, Ph.D. Source: Virginia Commonwealth University
If liquid-state electrolytes are inherently unstable, why are they commonplace in lithium-ion batteries?
The answer is conductive superiority over their solid-state cousins: Conductivity is impacted by the degree to which positive lithium ions can flow between electrodes. They flow freely through liquid, but are less mobile in solids.
But Virginia Commonwealth University (VCU) physics professor Dr. Puru Jena believes it doesn't need to be that way. With recently-published research showing that solid-state electrolytes can be designed to be both stable and conductive.
Jena says, "You can have your cake and eat it too."
As published in the Proceedings of the National Academy of Sciences, research done by Jena and colleague Hong Fang, a postdoctoral fellow in the department of physics, is theoretical but promising. It could lead to safer and more powerful lithium-ion batteries.
Electrolytes are salts composed of both positive and negative ions, and they are central to a battery. The electrolyte used by the researchers belongs to a family of crystals called antiperovskites. It contains positive ions made of three lithium atoms and one oxygen atom; joining them is a single chlorine atom that is a negative ion.
And that's where the chemistry comes into play: in the researchers' computational model, that single negative ion was replaced with a negative cluster ion — a group of atoms with more electrons than protons. Because these ions are larger, the lithium ions can, "move quickly, as if they were in a liquid," as Fang explains. That means better conductivity within the more stable solid-state platform.
While the cluster ion employed by the researchers consisted of one boron atom and four fluorine atoms, other combinations that could enhance conductivity were also identified.
Jena and Fang are now searching for collaborators to test their computational model in a lab setting for eventual lithium-ion battery applications.