A new development called NavCube combines two proven technologies to fulfill several important purposes for NASA research.

The NavCube—a marriage of NASA's SpaceCube 2.0 and the Navigator Global Positioning System (GPS) flight receiver—could help spacecraft like the vehicle used in NASA's Magnetosphere Multi-Scale (MMS) mission navigate in deep space, as well as detect GPS satellites at high altitudes. Additionally the NavCube could demonstrate X-ray communications (XCOM) in space, allowing transmission of gigabits per second of data through the solar system.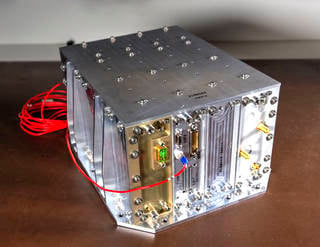 The NavCube, set to make its parents, the SpaceCube 2.0 and the Navigator GPS system, proud. / Photo Credit: NASA/W. Hrybyk By merging the SpaceCube, a reconfigurable, fast flight computing platform, with the powerful Navigator GPS flight receiver, engineers discovered they may be able to more accurately track navigation at increasingly high altitudes, including areas of space near the moon and lunar orbits.

The NavCube developers, funded in part by NASA's Goddard Space Flight Center in Greenbelt, Maryland, won the NASA Innovators of the Year award for their team's ingenuity in combining two best-in-class technologies to expand their respective capabilities and functionality in one unit.

The Navigator GPS flight receiver was originally designed to detect, acquire and track faint GPS signals for the MMS mission. Exceeding expectations, the receiver entered the Guinness Book of World Records as the highest-altitude GPS available, tracking as many as 12 GPS satellites—three to four times the projected amount.

By porting the Navigator software and firmware into the SpaceCube reprogrammable platform, developing a compatible GPS radio-frequency card, adding new GPS signal capabilities, and enhancing the Navigator's sensitivity—all while decreasing its overall size—the team has created a highly advanced, flexible tool suitable for a broader range of applications.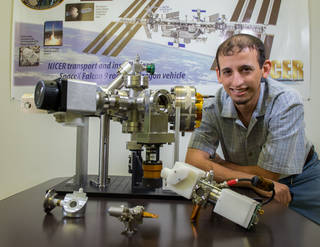 Steve Kenyon of NASA's Goddard Space Flight Center in Greenbelt, Maryland, one of the innovators on the NavCube team, with some of the hardware required to demonstrate X-ray communications in space. / Photo Credit: NASA/W. Hrybyk The technology is scheduled to be deployed on the International Space Station in 2018, with one NavCube demonstrating its navigation and processing capabilities, and a second NavCube testing XCOM capabilities with precise timing.