At Electronica 2016, Power Integrations debuted its LinkSwitch-TN2 switcher IC for off-line, non-isolated applications. With up to 360 mA output current the new device, which may be configured as a buck, buck-boost or non-isolated flyback converter, is aimed at global applications in major appliances, smart metering products, HVAC, industrial and home automation, as well as the Internet of Things (IoT), particularly when destined for India and other areas with challenging power grid stability.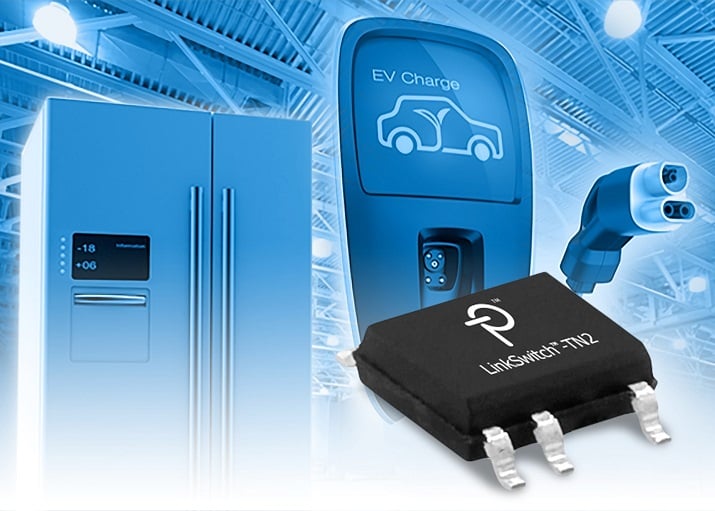 Power Integrations reveals its LinkSwitch-TN2 switcher at Electronica 2016.
The device incorporates new safety features, including input and output over-voltage protection, and incorporates a MOSFET with a 725 V breakdown voltage, offering robust output short-circuit and over-temperature protection against line surges and swells.
The LinkSwitch-TN2 features voltage regulation of better than ±3%, according to the company. High line-regulation accuracy in input voltage allows the part to be used in different countries where there may be wide fluctuations in mains supply. This level of accuracy—VOUT < ±5% regulation across production—eliminates expensive post regulators, minimizing the BOM, increasing efficiency and reducing size. The new IC requires just 20 additional components to complete a buck converter, and may be configured to use off-the-shelf inductors, further reducing cost and supply-chain complexity.
The new devices are said to be very efficient in low-power applications—above 80% in 12 V, 120 mA (1.4 W) in buck designs, for example. LinkSwitch-TN2 typically consumes less than 30 mW no-load in a buck arrangement and less than 10 mW when configured as a non-isolated flyback. This is essential for designers addressing Total Energy Consumption (TEC) regulations, which prescribe an energy budget limit over a range of operating modes. Its very low, no-load consumption (< 30 mW) supports designs that need to meet EISA 2007 EPS (< 100 mW). In addition its no-load is ideal for appliances and IoT applications that experience long idle time.
LinkSwitch-TN2 efficiency performance enables manufacturers to design power supplies to meet worldwide product energy-efficiency requirements from, for example, European Commission's ErP (< 0.5 W standby), the California Energy Commission, ENERGY STAR, Top Runner, Blue Angel, E3C (Australia), as well as those of similar programs in Taiwan, Korea and elsewhere.
As a design example consider that the DER-507 power supply for small appliances uses the smallest of the new devices [LNK3202D (So-8)] and a low-cost inductor. The design offers 85–265 VAC input and 5 V 35 mA (175 mW) output with less than 100 mW in no-load mode.