A new autonomous scooter can help expand users' mobility even in such tight spaces as apartment buildings, shopping malls or healthcare facilities. The scooters use the same sensor configuration and software algorithms previously deployed in some autonomous cars and golf cars. This most recent application not only complements the cars and golf carts to create a comprehensive mobility system,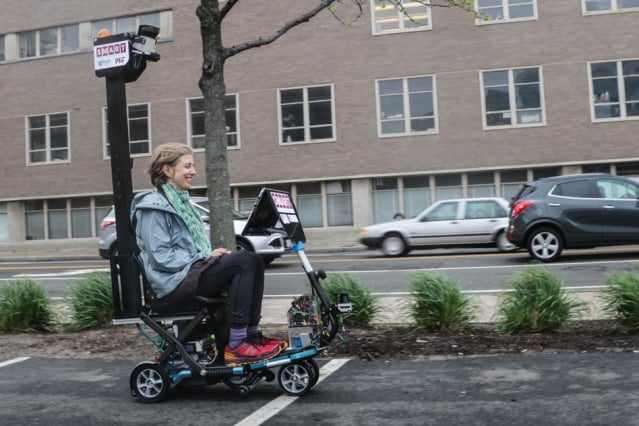 Users test a new autonomous scooter capable of navigating outside or indoors. / Courtesy of the Autonomous Vehicle Team of the SMART Future Urban Mobility Project but also shows the technology can operate effectively indoors. The mobility scooter even performed well during testing in MIT's Infinite Corridor, a long, non-descript hallway with few identifying features.

The system includes several layers of software to accomplish several crucial tasks required by an autonomous vehicle:
low-level control algorithms enabling the vehicle to respond immediately to changes in its environment
route-planning algorithms for navigation
a map-building algorithm to construct a map of its environment
localization algorithms so the vehicle can identify its location on that map
a scheduling algorithm to allocate fleet resources
an online booking system so users can schedule rides, which could be useful in public places from theme parks to shopping malls
Researchers at MIT's Computer Science and Artificial Intelligence Laboratory (CSAIL), the National University of Singapore (NUS) and the Singapore-MIT Alliance for Research and Technology demonstrated the technology for more than 100 riders at an MIT Open House last spring.

More recently, MIT Professor Daniela Rus, NUS Associate Professor Marcelo Ang and NUS graduate student Scott Pendleton, along with four additional researchers, presented a paper describing the design of the scooter and the results of user trials. Users who rode the scooter reported feeling safer on autonomous vehicles after the experience than before, giving autonomous vehicles an average safety rating of 3.5 before their scooter ride and a score of 4.6 afterwards.

The scooter has far-reaching implications for autonomous vehicles. Equipped with machine-learning systems, the vehicles can share information with other vehicles using the same software. The vehicles will then have more opportunities to learn, improving the performance of the navigation and control algorithms.

Through the scheduling algorithm in the software, different autonomous vehicles can "fill in" for various tasks if the first-choice vehicle is not available. For instance, a scooter can serve as well as a golf cart for a trip across a public park.

In addition, the successful trial shows the speed and ease with which developers can deploy the software in a variety of vehicles. The autonomous scooter research project, for instance, took just two months from start to finish, demonstrating the benefit of software uniformity to reduce the time-to-market for these autonomous vehicles.