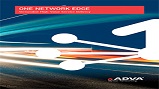 Network Edge utilizes the?ADVA FSP 150?product family. Source: ADVA.
ADVA Optical Networking has introduced One Network Edge—a unified solution portfolio built upon a comprehensive range of edge devices. Covering service demarcation and performance assurance, virtual network function hosting, security, and synchronization delivery, One Network Edge has been specifically engineered to meet every edge application. This one-stop shop approach will dramatically simplify and unite service providers' edge networks and help them to rapidly respond to growing demand for high-value communication solutions.
Utilizing the ADVA FSP 150 product family, One Network Edge combines a mixture of hardware and software that ensures quick and easy service implementation with low operational impact.
One Network Edge is designed to address the growing interest in network functions virtualization, the demand for improved security, the need for synchronization and an increasingly challenging demarcation space. To successfully address each of these areas, service providers need to manage a complex mix of heterogeneous equipment from multiple vendors. One Network Edge immediately simplifies this situation.