Researchers at the University of Pennsylvania's School of Engineering and Applied Science have developed what they claim to be the world's smallest self-powered, controllable flying drone.
Named Piccolissimo, which means "tiniest" in Italian, two drones were developed. The first weighs less than 2.5 grams and is about the width of a quarter; the second is a steerable version about 2 grams heavier and a centimeter wider. While other small drones have been developed, including the RoboBee at Harvard, these have been tethered to a terrestrial power source, which limits the range of motion.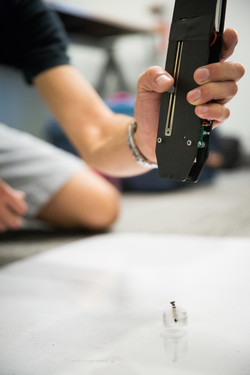 The Piccolissimo drone could be used in search and rescue operations where hundreds of tiny drones or more cover an area looking for survivors. Source: University of Pennsylvania The University of Pennsylvania was able to create the tiny drone with only two moving parts: a propeller and the body of the robot itself. Using 3-D-printed plastic, Piccolissimo's body spins in the opposite direction as the propeller, enabling flight, and can be controlled by an infrared signal, enabling steering.
Researchers say this type of drone could be used in the future for working in agriculture, disaster relief or search and rescue. "Having 100 or 1,000 small, controllable flyers could explore more of a disaster site than a single big, expensive one," says Mark Yim, professor at the Pennsylvania School of Engineering.
Because the drone is so tiny and lightweight, it limits what could be placed on the drone. Researchers say about a gram's worth of payload could be attached to the drones—enough for a small camera or other type of sensor, leading to a perfect device for search and rescue.
"Spinning vehicles are pretty terrible for carrying people, but pretty fantastic for carrying sensors," says Matt Piccoli, a graduate student at the University of Pennsylvania's ModLab. "It's common practice to make a simple sensor, then spin it around, like radar dishes at airports. We get this feature for free, so we could take a line-scan camera, like in a barcode reader, put it on the vehicle body, and get a 360-degree panorama. These cameras are simpler and smaller than a normal 2-D camera, and yet we'd get a better field of view."