Silicon Microstructures, Inc. (SMI), a subsidiary of Elmos, has launched the SM5221 and SM6221 fully digital, low-pressure MEMS sensor series as part of the company's SM5000 and SM6000 families. Covering pressure ranges from 0.3 PSI to 2.0 PSI, the sensors have a better than 1% initial accuracy and less than 1% total output shift over their lifetime. The sensors are issued under SMI's AccuStable brand, which, according to the company, it reserves only for high-accuracy sensors demonstrating long-term stability. Combining the two new series with the SM1221 and SM4221 series released earlier this year, SMI's AccuStable system solutions cover pressure ranges from 0.3 PSI to 30 PSI.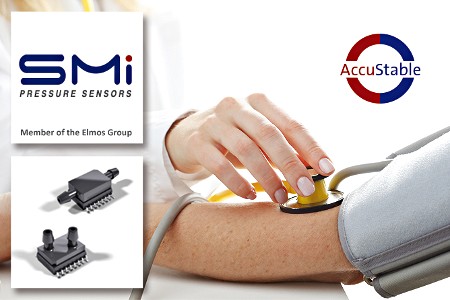 Silicon Microstructures' SM5221 and SM6221 low-pressure sensor series covers pressure ranges from 0.3 PSI to 2.0 PSI. Image source: Silicon Microstructures, Inc. The SMX221 series offer gauge, differential and asymmetric calibration, 14-bit digital I2C output and 1% total accuracy. Combining the pressure sensor with a signal-conditioning ASIC in a single package simplifies the user's experience. Available in both vertical and horizontal porting options, the pressure sensors can be mounted directly on a standard printed circuit board and a high-level, calibrated pressure signal can be acquired from the digital interface. This eliminates the need for additional circuitry, such as a compensation network or microcontroller containing a custom correction algorithm.
Temperature compensation is from –20° C to 85° C. These products are available in a JEDEC standard SOIC-16 package and are shipped in sticks or tape and reel.
SMI's pressure sensor families are developed with special focus on the following markets: medical instrumentation, industrial automation and controls, home appliances, HVAC, and aircraft cabin pressure monitoring.