Tasked with trying to figure out how to create a magnet with exactly the right magnetic field, researchers from The Vienna University of Technology (TU Wien) decided they would use 3-D printing as the solution.
From a technical standpoint, making a strong magnet isn't a challenge. The real challenge lies in producing a permanent magnet with a magnetic field of a specific pre-determined shape.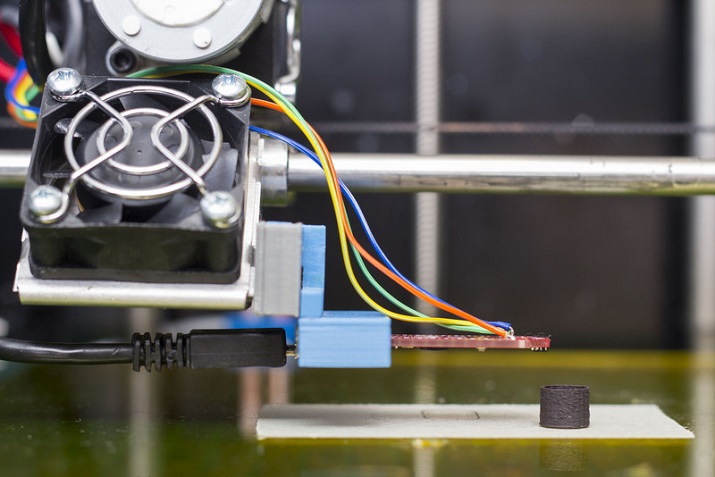 A magentic cup-like shape, created in the 3-D printer. (Image Credit: TU Wien)
Thanks to the new TU Wien solution, though, for the first time ever, permanent magnets can be produced using a 3-D printer. This allows magnets to be created in complex forms and customized magnetic fields, required, for example, in magnetic sensors.
"The strength of a magnetic field is not the only factor," said Dieter Süss, Head of the Christian-Doppler Advanced Magnetic Sensing and Materials laboratory at TU Wien. "We often require special magnetic fields, with field lines arranged in a very specific way – such as a magnetic field that is relatively constant in one direction, but which varies in strength in another direction."
In order to achieve the requirements, magnets need to be produced with a sophisticated geometric form.
"A magnet can be designed on a computer, adjusting its shape until all requirements for its magnetic field are met," said Christian Huber, a doctoral student in Dieter Süss' team.
But once you have the desired geometric shape, how do you implement the design? Applying an injection molding process is one solution, a time-consuming and costly one that requires the creation of a mold, and makes this method it an unlikely one for small batches.
Or you can turn to a much simpler method – a 3-D printing solution used to produce magnetic materials. The 3-D magnet printer created by the team functions similarly to ones used to fabricate plastic structures that have existed for a while. The difference is that the magnet printer uses specially produced filaments of magnetic micro granulate, which is held together by a polymer binding material.
The printer heats the material and applies it point by point in the desired locations using a nozzle. The result is a three-dimensional object composed of roughly 90% magnetic material and 10% plastic.
The end result is not magnetic yet. The material is deployed in an un-magnetized state and at the end of the process the finished article is exposed to a strong external magnetic field that converts it into a permanent magnet.
"This method allows us to process various magnetic materials, such as the exceptionally strong neodymium iron boron magnets," said Süss. "Magnet designs created using a computer can now be quickly and precisely implemented – at a size ranging from just a few centimeters through to decimeters, with an accuracy of well under a single millimeter."