High-performance magnets used in electric motors are currently manufactured using processes such as powder compaction (for sintered magnets) or injection molding (for bonded magnets). The magnets are first fabricated and then shaped and assembled into a final product.
A new cold spray technology from the National Research Council of Canada (NRC) combines all the steps into one. The method leads to marked cost reductions and broadens design possibilities unattainable with traditional manufacturing processes.
A material in fine powder form is accelerated in a high-velocity compressed gas jet so that a stream of powder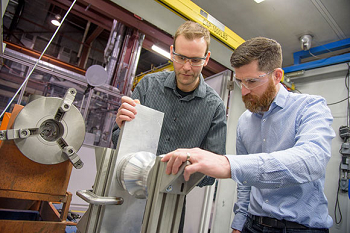 Preparing a prototype part for an electric motor in the NRC's cold spray facility. Source: NRCimpacts a target at great speed where it starts building up layer upon layer. An industrial robot performs rapid and precise 3D movements to control the process, allowing the realization of complex shapes. Cold spray additive manufacturing enables very high buildup rates, allowing production of several kilograms of magnets per hour.
The cold spray magnets feature excellent mechanical and thermal properties, as the high velocities used in material deposition and the absence of polymer in the material matrix combine to give the magnet intrinsic mechanical properties far superior to conventional magnets. Neither glue nor assembly is used to achieve improved adhesion of magnetic material to the surface of the part. The magnets are also corrosion and oxidation resistant, offering scope for a longer service life.
In addition to production of magnets for vehicular electric motors, the technology could find application for magnetic cooling, wind turbines and telecommunication devices.