Researchers at the Delft University of Technology (TU Delft) in the Netherlands have developed a new 3-D printing technique that allows for flat surfaces with nano-patterns to self-fold later. The technology could have extreme ramifications for how medical implants are made, manufactured and used in the realm of the healthcare industry.
As part of its research, TU Delft is working on a project that would use smart 3-D-printed implants for recovery of bone defects—something that if successful could lead to a faster recovery in patients and fewer operations. This type of tissue engineering is seen in the healthcare industry as a revolutionary way to treat many diseases—using multifunctional biomaterials instead of traditional ways for treatment.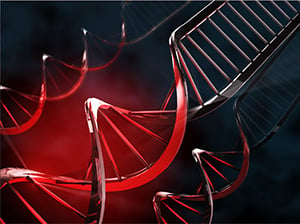 Using 3-D printing to create a flat surface that can self-fold after being combined with nano-patterns could be a major breakthrough in bio-implants. Source: TU Delft The researchers believe this technology of 3-D-printed bio-implants could have more uses beyond just bone defects. However the issue is that while 3-D printing allows for the creation of complex 3-D structures, access to the surface is very limited during the actual printing process. There was no way to combine complex 3-D structures with complex surface nano-patterns in these bio-implants.
So the researchers turned to origami (the art of paper folding founded by the Japanese) as a solution. This allowed for flat surfaces that are first 3-D-printed to be taught how to self-fold. The flat surface is decorated with complex nano-patterns, and the self-folding is activated to form complex 3-D structures.
"Nature uses various activation mechanisms to program complex transformations in the shape and functionality of living organisms," says Amir Zadpoor, one of the researchers at TU Delft. "Inspired by such natural events, our team developed initially flat (two-dimensional) programmable materials that, when triggered by a stimulus such as temperature, could self-transform their shape into a complex three-dimensional geometry."
While this is still in the development stage, Zadpoor believes this is one step toward better medical implants. The team hopes to make further progress toward a viable healthcare option in the future.