The desire for technology that runs on low power is at a fever pitch as consumers' demand for wearables and other mobile devices is not slowing down.
Engineers at the University of Cambridge have developed what may be a game changer in this regard with a type of ultra-low power transistor that could function for months, maybe even years, without a battery by using energy from its environment.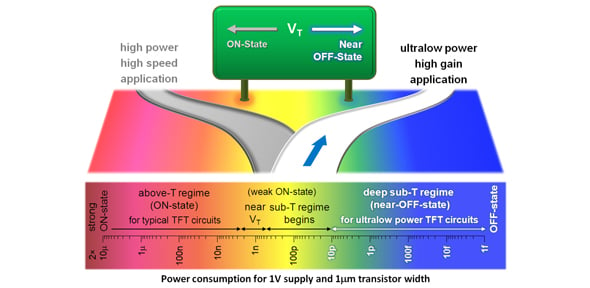 A diagram showing how engineers were able to tap into the "leaked" power used during a near-off state. Source: University of Cambridge This technology could open up a whole new range of electronic options in the realm of consumer devices such as wearables, or it could be used to develop new implantable devices that require far less power than current devices.
How They Did It
The transistors utilize the electrical current that is "leaked" when devices go into a near-off state, similar to a computer being put in "sleep" mode. The leak is a characteristic of all transistors, but researchers say this is the first time it has been effectively captured and used functionally.
Furthermore, the transistors can be produced at low temperatures and printed on almost any material—glass, paper, plastic or polyester. The transistors are based on a geometry that uses the Schottky barrier, the point of contact between the material and the semiconducting components in the transistor.
"We're challenging conventional perception of how a transistor should be," says Professor Arokia Nathan of Cambridge's Department of Engineering. "We've found that these Schottky barriers, which most engineers try to avoid, actually have the ideal characteristics for the type of ultra-low power applications we're looking at, such as wearable or implantable electronics for health monitoring."
Changing the Design
One of the favorable aspects of the transistors is that using this method allows for devices to be produced that are very small. As transistors get smaller, the two electrodes start to influence the behavior of one another and the voltages spread. This leads to small transistors failing to function as desired. With this new design, researchers were able to use the Schottky barriers to keep the electrodes independent from one another, allowing for scaling down to small geometries.
"If we were to draw energy from a typical AA battery based on this design, it would last for a billion years," says Dr. Sungsik Lee, professor in the Department of Engineering at Cambridge. "Using the Schottky barrier allows us to keep the electrodes from interfering with each other in order to amplify the amplitude of the signal—even at the state where the transistor is almost switched off."