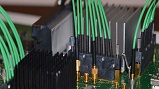 Carlisle Interconnect Technologies (CarlisleIT) has announced the launch of a lineup of products designed to deliver high signal integrity in increasingly dense test and measurement applications.
New products include the CoreGD™ and CoreHC™ RF adapters and Secure-Thread™, one of the smallest threaded lock connectors available.
CoreGD™ and CoreHC™ are high-performance, field-replaceable, multi-port interconnect systems offering excellent signal integrity for complex layouts and crowded PCBs. Both connector systems are designed as low-cost solutions optimized for applications with demanding bandwidths up to 65 GHz, and pushing the envelope up to 100 GHz. CoreGD™ and CoreHC™ are available in multiple configurations to deliver optimum performance, including vertical mount and board-to-board stack mount. The connector systems are available in standard offerings of 2, 4, 6, 8 and 10 positions.
The robust and flexible design of the CoreGD™ saves PCB space with an SSMP® ganged 4.0 mm pitch. CoreGD™ features simplified, pre-tinned, surface-mount technology (SMT) to reduce mount install time and associated costs.
The CoreHC's™ solderless design simplifies installation and enables the connector to be reused, saving time and reducing overall costs. CoreHC™ delivers high signal integrity in a long-life package with 20,000 mating/de-mating cycles.
The Secure-Thread™ series for the SSMP® connector system provides a smaller version of the SMP interconnect system. A self-aligning, blind-mateable, push-on connector combines with a threaded coupling nut system to enable quick and efficient connection and ensure stable, reliable signals in highly dense settings. Secure-Thread™ is compatible with several of CarlisleIT's cables, including AccuPhase®, IntegraPhase, Semi-Rigid and Semi-Flexible cables.