"Selfie?" asks the Burmese teenager sitting in a tea shop in Taungoo. She giggles as she and her friend squish in beside me. She puts on her cool "look at me" face as she snaps the photo with her Oppo smartphone, with a cracked screen. She shows me the Facebook post and sends me a friend request, which I accept.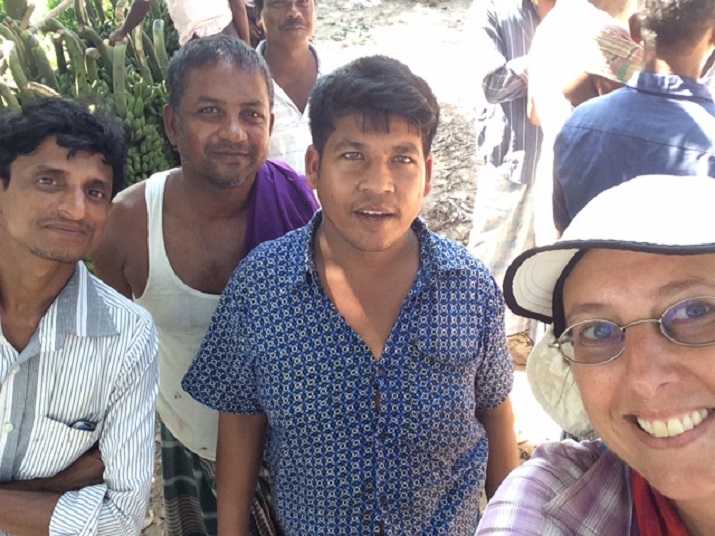 A selfie with banana growers and vendors, along the N1 road in Bangladesh
"One photo. Selfie," shouts a 30-something-year-old man from the window of a car. The driver pulls over in the shoulder of the deserted desert road in the middle of nowhere Uzbekistan. Three people, wearing gold-rimmed aviator glasses, hop out of the car and surround me. We all give the thumbs up. He checks the pictures, and gives another thumbs up. They ask where I'm from, shake my hand and speed away.
"Selfie," says a Bangladesh college student milling about the N1, one of the country's main arteries, waiting for a bus, jitney van, tuk-tuk, bicycle rickshaw or some other ride. He pulls out his Samsung. He also has a cool "look at me" pose, and takes five or six shots, shifting his phone's position from horizontal to vertical a couple times. His friends, lingering in a semicircle and waiting for an excuse to jump in, line up to take a five or six more shots of themselves and me, the odd tourist who walked into their space. I keep smiling, the heat and humidity melting me. "Is it for Facebook?" I ask. "Yes, if that's okay," he replies, his fingers already moving across the keyboard in the social media app. I smile again and say yes. I give another thumbs up, the universal sign for okay and it's good.
Selfies and social media are the world's connectors, making all of us more accessible and putting each of us in arm's reach. They are technology's icebreakers, and as exhausting as it is to take dozens of pictures every day, they have helped us formed ultra-brief, flash-friendships in a handful of countries. Smiling and posing with strangers has opened doors for us in parts of the world where few backpackers and travelers pass.
My partner Lluís and I are on a multi-year walking trip. We started in January 2016 in Bangkok, and intend to walk as much as possible across Asia and Europe back to our home in Barcelona. We have, so far, walked more than 4,000 kilometers across Thailand, Burma/Myanmar, Tajikistan, Uzbekistan and Kyrgyzstan (not directly part our route, but a good spot for getting Central Asian visas). We are currently in Bangladesh, making our way towards India.
Our phones– my cousin's donated out-of-contract iPhone 5s, my old, unlocked iPhone 4s and a Huawei bought on sale (along with our Brookstone foldable Bluetooth keyboard, our solar panel, extra battery packs and a AAA-battery-powered mp3 player)—are invaluable tools for our journey. We use them to blog, check maps and walking distances, look at weather forecasts, scout out sleeping spots, send emails, read news about places we're in and heading towards, manage our finances from faraway, listen to music, make videos of things we see, and search travel and visa-related websites. Obviously, we also use them to take photos and update our social media status -- like many of the people we meet.
Widespread availability
The feverish pitch of worldwide mobile device adoption is well known and well documented. But observing the everyday use of mobile phones, smartphones, tablets, apps and networking connectivity is sometimes surreal.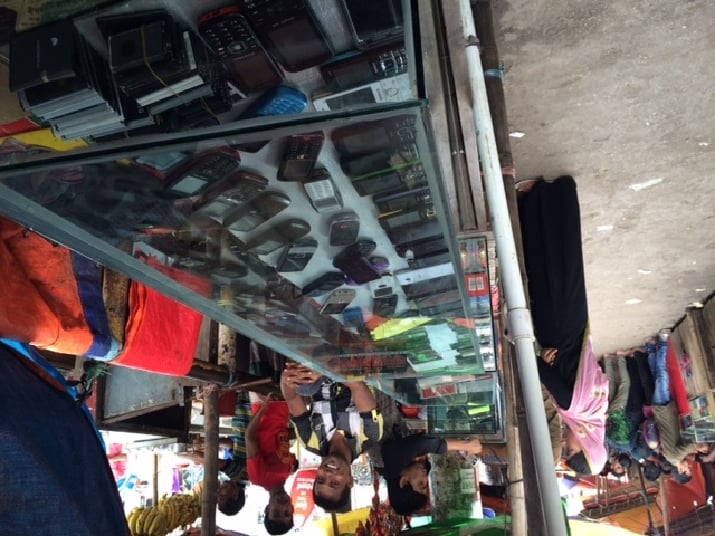 Regardless of the place, mobile devices have become most people's most valuable tool on their own personal journey, whether they a worker paving a road in an overcrowded city, a doctor on-call in a hospital, a suit-and-tie businessman heading to the office, a fisherman in a rural village, a woman picking rice or a shepherd tending goats and sheep in a remote mountain valley. Cell phones, and their modern-day iteration -- smartphones -- seem to have become the must-have device, even more than televisions or computers. And there are signs of it everywhere we walk, literally and figuratively.
In Thailand, for instance, we were constantly surprised how widespread super-fast Wi-Fi and 3G (and sometimes 4G) networking was. Hotels, restaurants and malls are all hyper-connected, and even the small, run-down guesthouse we stayed in Bangkok had far better Wi-Fi than we typically had at home. We could walk into one of the many new, trendy cafes popping up across the country, order our fancy coffee drink and do some emails exactly the same way we would in San Francisco, Brooklyn or London. There were few spots where we lost connectivity.
It's a similar story in Bangladesh. Although Wi-Fi is far less common, my SIM card gives me fast 3G data access pretty much everywhere we find ourselves, except in concrete buildings. And, it's cheap! I paid 200 taka (about U.S.$2.54) for a SIM card available to foreign visitors, and can buy 1GB (up to 10 GB, and with each gigabyte valid for seven days) for nine taka (about 11 U.S. cents). Recharging or topping up credit is easy, too. There are kiosks, tea stalls or delis in even the smallest towns that will quickly punch in my phone number and get me back online for a minute service fee of one taka (about one U.S. penny).
Like in other places, the phone market here is popular and competitive. In any major city, tables and street stalls take over sidewalk space, and vendors hawk every kind of device and accessory. We stumble over people eyeballing old Nokia handsets, asking about new Huawei, Lenovo, Oppo or Samsung phones (Apple's feature phones are rarely seen in this part of the world), rummaging through second-hand batteries, and deciding which USB charger or headphones to buy. A Masters accounting student we met, who doubles as a teacher teaching kids in his town basic digital technology, I.T. and computer skills, tells us that young people want to change their handset every six months. It's an expensive trend in a country where many people live in poverty, but those who can afford the switchover do it with insatiable frequency, he adds.
Across the border in Burma/Myanmar, people are making up for lost time. The country, closed off from the world for decades, is in the thick of its own digital revolution. Phone shops have sprouted up like mushrooms, and have a feel of being more numerous than places that sell food. Posters and banners promoting the three or four main telecommunications competitors are plastered on billboards, draped over bike repair shops and take up nearly every square inch of likely and unlikely advertising real estate.
A middle-aged woman in Taungoo, sitting behind a weathered but sturdy wood desk, tops my SIM card credit. She points to her sister selling medicine and pill packets a few meters away, and explains how her family converted half their pharmacy into a phone-selling booth to capture some of the windfall of meeting pent-up demand for the increasingly popular smartphone. She sighs, and says, "Even my three-year-grandson knows how to use a smartphone."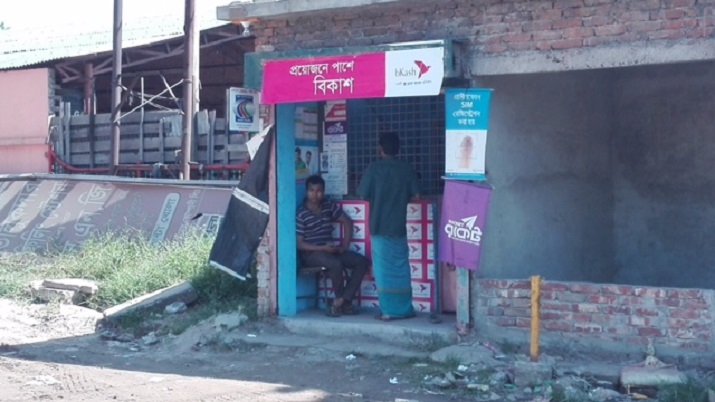 Down in chaotic and crowded Yangoon, I fall into a conversation with a man probably in his 50s. He's fiddling with his tablet, reading something on the BBC. I ask him what he loves most about his city, and he says one of his favorite things is the access to online information he now has. I'm not convinced that it's the city's doing and not the addictive nature of technology and the Internet that feeds his habit, but he believes the technology access makes his city more livable.
Despite the widespread access, there are spots where the last-mile networking gaps still have to be closed. In smaller-population countries, such as Uzbekistan and Tajikistan, where mountains and deserts make it hard to justify the costs of building and maintaining towers, there were long stretches where connectivity seemed to be a futuristic science fiction idea. We would walk by an isolated, lonely cell phone tower and raise our phone to its antennae, only to be disappointed with messages about not being able to refresh our feed or read an email that had not been downloaded from the server.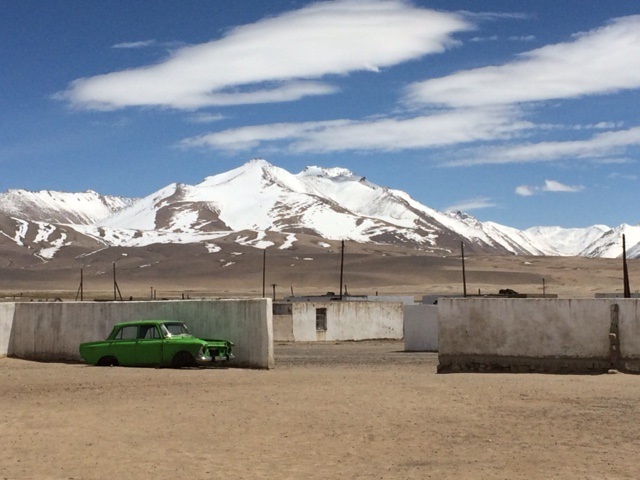 That said, perhaps there are places where technology ought not be. While I wish all people had connectivity and the benefits that come with it, standing in the shadow of the Pamirs and Hindu Kush's majestic mountains, I was often glad to be technologically disconnected and united with the jaw-dropping natural beauty around me. I was happy technology's footprint had not reached that little corner of the Earth, and I could speak with the mountains and rivers in a different language.
Speaking a universal language
Alas, it is language that truly bonds us. Thankfully, the technology embedded in and downloaded to our smartphones makes that possible in ways that didn't exist 10-15 years ago when I started to take my travel and backpacking life seriously.
To bridge languages, we have both no-tech and high-tech solutions. Sometimes, if we haven't learned the local words, we use plastic-covered, homemade picture flashcards to ask for food, water or a pharmacy. The BabelDeck app and its colorful pictures have also been useful in conveying quick, one-word questions; I'm waiting to show a fruit vendor the star fruit picture and walk away with a tasty snack.
When we need to have conversations that go beyond where something is and how much it costs, we use a variety of translation apps, including Google Translate, Microsoft Translator and iTranslate. They all have their advantages and shortcomings, and none of them are perfect in all the languages we need on our route. But like the selfies and social media invitations, they help us be more human and share our humanity and compassion. They sometimes make us feel more like friends than strangers.
Like that night we slept in a Buddhist temple in a tiny Thai village and had a heart-to-heart talk with two monks who took us in and gave us shelter. We used Google Translate to complement our smiling and pointing. Typing in our own languages, in our own scripts, on two phones, we spoke about families, our lives and why we wanted to walk from Bangkok to Barcelona. The monks said they were worried we would have hard days, encounter difficult situations and maybe meet bad people who would hurt us. We told them those were life's challenges, not just walking or travel challenges. They nodded knowingly, smiled and said they would think of us often. They wished us clear path and a good walk, wherever it leads.
I'm still in touch with them now and again. We're Facebook friends.