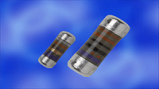 Vishay Intertechnology, Inc. has extended its AEC-Q200-qualified p
rofessional thin-film MELF
 resistors to tighter tolerance in the low-ohmic range below 1 Ω for the 0204 and 0207 case sizes. Along with a low- temperature coefficient, the improved Vishay Beyschlag 
MMA 0204 and MMB 0207
 allow for more precise current measurement in LED lighting, industrial, automotive and renewable energy applications with high stability and reliability requirements than previous-generation devices.
Built on an advanced metal film technology, the resistors now offer an extended resistance range down to 0.22 Ω with tolerance of +/– 1%, low TCR of +/– 50 ppm/K, and rated power dissipation to 1 W at +70° C. The professional thin-film MELF resistors, available in 0102, 0204 and 0207 case sizes, feature a robust design, intrinsic sulfur resistance and excellent overall stability that exceeds class 0.25. The resistors carry tolerances of +/– 0.5, 1, 2 or 5%, and thermal coefficient of resistance ratings of +/– 25, 50 or 100 ppm/K. Operating voltage is 150, 200 or 350 V, and operating temperature ranges from –55° C to +155° C.
The MMU 0102, MMA 0204 and MMB 0207 provide proven reliability for current sensing in DC/DC conversion and pulse-width modulation in LED drivers, solar inverters, industrial electronics, and battery management systems for electric and hybrid vehicles, in addition to telecom and medical equipment.