Vishay Intertechnology, Inc. has extended its MCW AT Professional family of wide-terminal, thin-film chip resistors by supplementing the existing MCW 0406 AT line with an additional case size for power handling of up to 1 W. For power electronics in industrial and automotive applications, Vishay Beyschlag 
MCW 0612 AT Professional
 devices provide high-power dissipation, high-temperature performance and renowned long-term thin- film stability.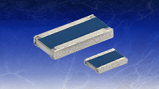 MCW AT thin-film chip resistors. Source: Vishay Offering up to four times higher power dissipation when compared to standard resistors in the 1206 footprint, the devices released today lower costs by replacing multiple resistors of the same size or larger devices with equivalent power ratings. Furthermore the wide terminal contact geometry of the MCW 0612 AT Professional series allows for robustness against thermal cycling. In addition, the resistors offer high operating temperatures to +175° C for 1,000 hours and advanced sulfur resistance as verified according to ASTM B 809 by exposure to sulfur vapor at 90° C and 80% to 90% relative humidity for 42 days.
These specifications allow designers to use MCW 0612 AT Professional series resistors in harsh and high-temperature environments without compromising power rating or electrical performance, and to comply with today's requirements for miniaturization. The devices are equally effective whether the application requires their full power capability or only a fraction of the nominal rated dissipation in order to gain improved stability. The resistors feature TCR down to ± 25 ppm/K, tolerance to ± 0.5% and a resistance range from 10 Ω to 100 kΩ.
Typical applications for the resistor include power measurement and control in lighting, inverters for hybrid electric vehicles and electric vehicles, engine control units, gear box controls, and braking and steering systems. For automotive applications, the resistors are qualified according to AEC-Q200.
Samples and production quantities of the MCW 0612 AT Professional series are available now, with lead times of eight to 10 weeks for large orders.