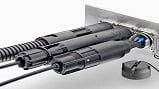 TE Connectivity has announced its FullAXS Mini connectors, reportedly one of the easiest connector-sealing systems to install in rugged outdoor environments. The FullAXS Mini connector-sealing system is one of the only products available that enables one-handed, blind installs from many angles. With three-sense (visual, audio and tangible) locking feedback, floating connections and a twist angle of only 30°, these products can be installed by field engineers of all levels of experience in virtually any location.
Space on wireless and other outdoor rugged applications is at a premium, and engineers are designing smaller boxes as a result. Smaller boxes necessitate using connectors wherever possible. TE's FullAXS Mini connectors deliver the small size and scalability to design-in power and signal connectivity where needed. The connectors are 23% smaller than TE's current FullAXS products and can be placed almost anywhere on the box due to their flexible sealing system.
The FullAXS Mini connector-sealing system delivers a watertight seal up to IP67 and IP65 levels, uses UV material to meet F1 rating UL 94-V0 and withstands all applicable lightning strike requirements, making them ideal for many harsh outdoor environments, including wireless and microwave equipment, and industrial, robotic, aerospace and defense applications.