In 2017 the construction of the internationally-backed world's largest radiotelescope will begin. The $1.5 billion project will be known as the Square Kilometer Array (SKA), and will consist of an array of more than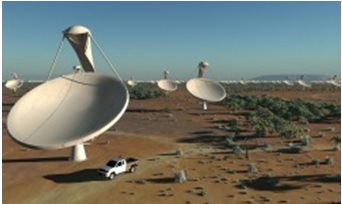 Main SKA dishes in Australia. Photo credit: IEEE Spectrum3,000 telescope dishes spread over an area of over 200 kilometers wide in the shire of Murchison, Australia. The area is the size of the Netherlands and has a population of no more than 100 people.

The SKA will produce radio images at high frequencies with an angular resolving power equivalent to images produced by a single dish 200 km wide. Two more projects will contain smaller antennas, arranged in a formation called aperture arrays. One of the two, in a 70 km wide Australian region, will consist on 250,000 antennas used for low-frequency imaging. A third aperture array will be constructed in a desert region near Cape Town in South Africa. These images depict an artist's conception of the three sites.

The dishes and antennas from these three regions will be linked by interferometry to form one large telescope with an effective collecting area of one square kilometer, an astounding achievement. Increasing the collecting area of a telescope increases its sensitivity so weaker signals can be detected.

The telescope will be serve five purposes:(1) to have a new perspective into the life of the first stars after the big bang, including how the first black holes were formed, (2) to study dark matter and da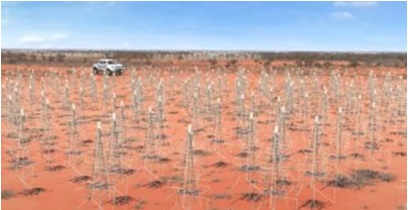 Low Frequency Aperture Array in Australia. Photo credit: SKA Organizationrk energy, (3) to understand how giant magnetic fields are generated in space, and how they are responsible for the shape of space objects, (4) to determine if there are other planets with similar conditions to Earth's, and (5) to discover many new pulsars, hopefully confirming the existence of gravitational waves. But Dr. John Morgan from Curtin University in Perth, says, "You can guarantee that the thing that SKA will be remembered for – is not on that list. It's going to be the thing you have not thought of. It's the unknown unknown."

Since its 2012 conception, astronomers and engineers were confident about their ability to build the project. Their main concern, however, was how to handle the enormous quantity of data the telescope will collect. The SKA will produce at least one exabyte (1× 1018 bytes) of data each day. This is about twice the data generated by the Internet each day! What's more, this one exabyte of data represents the output of the SKA after the signals are collected from the dishes and the antennas.

The total amount of data –coming from the dishes and the antennas - will be 100 to 1000 times bigger. To cope with the difficulty of managing this data quantity, IBM and Astron, a Dutch astronomical institute, joined forces to tackle the problem before the start of the construction of the SKA. A center for exascale computing c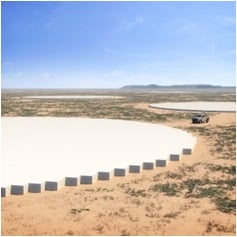 Mid-Frequency Aperture Array in South Africa. Photo credit: SKA Organizationalled DOME was created in Drenthe, the Netherlands, to study how to transmit, process and store all the radio data collected. The researchers were looking for new technology because current technology is extremely expensive and inefficient. "We know it can be done in terms of algorithms and the science. We just don't know how to do this in a practical sense, If we were to build the computing parts of SKA today, we would need millions of high grade servers," says IEEE Senior Member Ronald Luijten, data motion architect and senior project leader of DOME algorithms and machines and microserver projects. DOME is the project name which funds the Astron & IBM Center for Exascale Technology.

After years of research and testing, the team of researchers decided to host the whole data processing system, called the SKA Science data processor, in two dedicated SKA supercomputers. Ideally this system would be custom-built, but this option was too expensive. "We are looking into common, off-the-shelf hardware, but assembled in a way that is optimized for us," says Andreas Wicenec, head of data intensive astronomy at the International Center for Radio Astronomy Research (ICRAR) in Perth, Australia.

There are many options to consider: microservers, integrated CPU's, and others. "We don't know yet what will be better, and this is why we are doing the software development right now, and testing the different options," added Wicenc.