Balluff announced the Micropulse BTL7 TA12 hazardous area linear position sensor, which offers new features and improved performance, while maintaining 100% backward compatibility with the company's existing BTL5 TA12.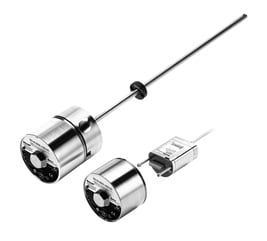 Balluff's Micropulse BTL7 TA12 uses non-contact magnetostriction technology to monitor linear position over stroke lengths up to 7,620 mm. Image source: Balluf via PRWeb The Micropulse BTL7 TA12 features non-contact, wear-free, magnetostriction technology for long-term reliability. It is available in analog or synchronous serial interface versions. A field-replaceable electronics module allows quick, easy in-cylinder repairs. The sensor may be ordered in nominal stroke lengths ranging from 25 mm to 7,620 mm, in 1 mm increments. It operates within the –40° C to 80° C temperature range. An available SA418 option (consult the factory) extends low temperature operation to –50° C.
Balluff also offers a PLUS version of the sensor, which features USB configuration capability for simple in-application customization. The PLUS version also has dual-position magnet capability, allowing monitoring of two independent motions from a single sensor.
Enclosed in a corrosion-resistant 316L stainless steel housing, the Micropulse BTL7 TA12 carries worldwide Class I, Div. 1/Class I, Zone 1 hazardous area approvals, giving the device global reach.
Balluff considers the Micropulse BTL7 TA12 linear position sensor ideal for position-feedback applications on hydraulically actuated valves and in hydraulic cylinders located in hazardous locations. It also serves well in level monitoring and turbine speed-control applications.