AVX Corporation has released a 2.9 GHz 0805 high-performance, low pass integrated thin film (ITF) SMD filter that exhibits low insertion loss and extremely sharp roll-off in high frequency (1.7–2.9 GHz) wireless applications, including mobile communications systems, microcell and picocell base stations, satellite TV receivers, global positioning systems (GPS), vehicle location systems and wireless large area networks (LANs). Based on thin film multilayer technology, the 2.9 GHz filter features an ultra-miniature 0805 chip size with a rugged construction for reliable automatic assembly.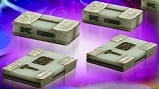 Low-profile, low-pass 2.9 GHz filter. Source: AVX
Measuring just 2.03 mm x 1.55 mm x 1.02 mm (L x W x H ±0.10 mm), the new low-profile, low pass 2.9 GHz filter is rated for 4 W continuous power, and operating and storage temperatures spanning –40° C to +100° C. Featuring characteristic impedance of 50 Ω and nickel/lead-free-solder-coated terminations compatible with automatic soldering technologies (reflow, wave soldering, vapor phase and manual), the RoHS-compliant filters are 100% tested for electrical parameters and both visual and mechanical characteristics, and are shipped on tape and reel.