Industrial Electronics
Picture This: Laser Engravers and Food
05 October 2018
Sponsored content
Many industries now take advantage of laser engraving and cutting technology to create quality metal, plastic, wood and fabric products, parts and components. These systems are also of value in preventing product counterfeiting via precision labeling and barcoding. As new laser applications emerge, a growing cadre of hobbyists and do-it-yourselfers are realizing the creative benefits of moderately-priced laser engravers as well as 3D printers.
One emerging application for both types of devices provides a different form of practical and artistic sustenance: the processing, branding and customizing of edible food products.
Lasers vs. 3D Printers
What can a laser system bring to the table that a 3D printer cannot? Both are computer-driven and economically accessible to industrial users as well as to hobbyists. Laser systems can be applied to almost any material, including plastic, glass, metal, wood and food, while 3D printers work primarily with plastics. A 3D printer is made for printing an object; laser cutters and engravers can etch bar codes, imprint promotional or creative designs and shape materials for specific applications.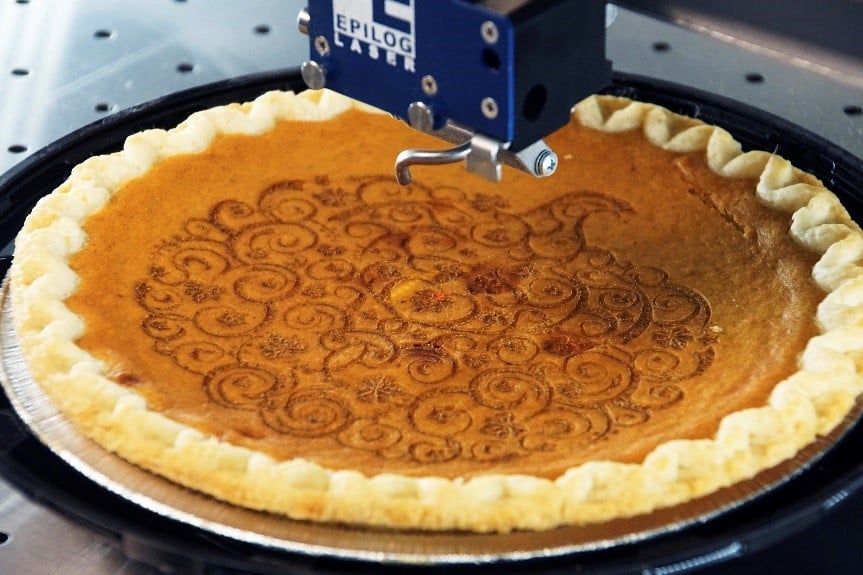 Laser engraving isn't just for materials such as metal and wood. Here, an Epilog Laser system creates a custom Thanksgiving pie. Source: Epilog LaserAs a result, there is a wide range of options for working with food with a laser system. With a low-power carbon dioxide laser source, scanning head and control software, laser engraving technology can be applied to quickly cut food products in a sanitary manner, reduce the cost and use of plastics and stickers for packaging, increase food production, improve nutritional value and create special effects and custom designs in edibles.
Most 3D food printers are deposition printers, meaning they deposit layers of raw material in a process known as additive manufacturing. A new category of 3D printer — binding printers — adhere materials together with a kind of edible cement. This generation of 3D food printer is much more complicated, combining nozzles, powdery material, lasers and robotic arms to make sugar sculptures, patterned chocolate and latticed pastry.
The Industrial Stuff
Eosta, an international distributor of fresh organic fruits and vegetables, is eliminating packaging and stickers on their products by using CO2 lasers to naturally brand fruits and vegetables before shipment. The practice of natural branding with a laser marker is becoming increasingly popular, especially in the organic food sector where a direct label is needed to distinguish organic foods from conventional fruits and vegetables. Laser-marking foods is safe, toxin-free and efficient, and replaces environmentally-damaging plastic. Just by eliminating plastic and other packing materials in their avocados, Eosta says it will save 750,000 plastic flow packs this year.
Meanwhile, researchers at Rice University in Texas have developed a laser-based method for writing patterns in various materials by turning the targeted areas into graphene – a carbon-based substance that has been the subject of numerous scientific headlines, thanks to its remarkable range of applications. Their laser-induced graphene (LIG) could be the foundation for a new realm of edible electronics that might be used to trace the progression of foods from farm to table, as well as detect harmful organisms that cause gastric distress.
The Fun Stuff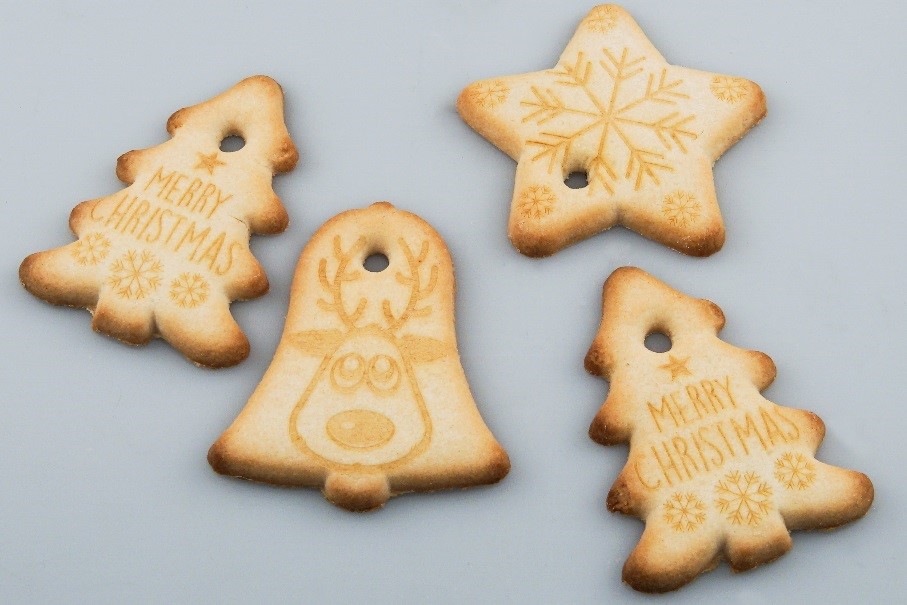 Laser-engraved cookies like these are especially popular around the holidays. Source: Epilog Laser
Lasers are commonly applied in the food industry for the processing of containers and packaging bags, but they can also be applied to create special effects in cakes, cookies, chocolate bars and even toast. This opens the door for artistic personalization and creative comestibles. As with any other substrate, when you're laser engraving food, you're slightly burning the surface to create depth and contrast. Since many foods – baked goods in particular – are sweet, you might notice a slight burnt sugar taste, depending on what you're working with.
Researchers in Japan have also demonstrated how a benchtop industrial laser cutter — normally used to cut or engrave patterns in plastic, wood and metal — can be used to cook ingredients according to their shape and composition, resulting in a variety of fascinating foodstuffs. In one successful culinary experiment, they laser-cooked bacon fat using a webcam trained on the food to guide the beam.
The Epilog Difference
The possibilities are endless, and laser engravers and cutters from Epilog Laser are fun and easy to use. The company is an industry leader that manufactures its laser systems in the U.S.A. It also offers award-winning customer support, plus designs and guidance for creating an array of fantastic food offerings. Let's get cooking!
Find Free Electronics Datasheets