Good news for homeowners who want to track why their electric bill fluctuates month to month.
A team of researchers from MIT has just developed a new device and accompanying software that could become available very soon. The new invention poses an easier way to determine how much power is being used by every appliance, lighting fixture and device in a home, with pinpoint accuracy and at a low cost.
This breakthrough, several years in the making, requires no complicated installations – there are no wires needed, and placing the small sensors over the incoming power line does not require any sort of precision, since the system was designed to be self-calibrating.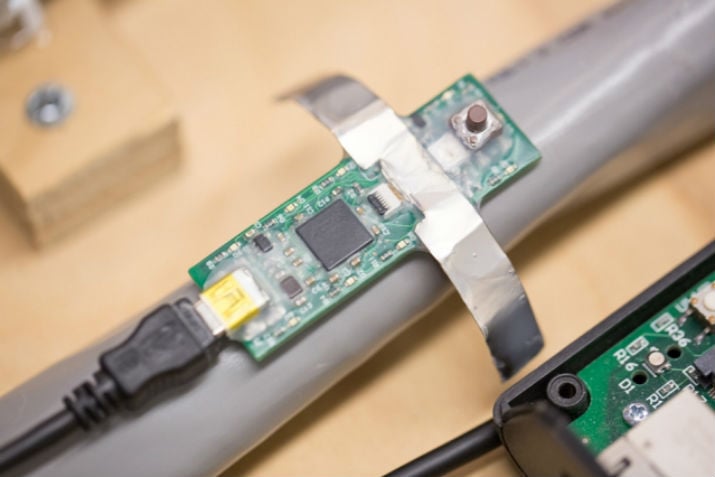 The new device and software that could determine out exactly how much power is being used by everything in your home. (Image Credit: Bryce Vickmark/MIT News)
The sensors sample the incoming data quickly, so they can pick up enough detailed information about spikes and patterns in the voltage and current with the help of the newly developed software. With that information, the system can tell the difference between every different kind of light, motor and other device in the home and show exactly which ones go on and off, at what times.
MIT isn't the first group to work on a device of this nature, but its version is designed so that all of the detailed information stays inside of the user's own home, which eliminates privacy concerns. The detailed analysis, including the potential for specialized analysis based on an individual user's specific needs or interests, can be provided via apps that can be developed using the MIT team's system.
In system tests, the researchers found that the new device has the potential to save energy and greenhouse emissions — and even to improve safety.
In one of the team's test installations, in a home, it was discovered that there was an anomalous voltage pattern revealing a wiring flaw that caused some copper plumbing pipes to carry a potentially dangerous live voltage.
"For a long time, the premise has been that if we could get access to better information [about energy use], we would be able to create some significant savings," says MIT Professor of Electrical Engineering Steven Leeb.
Leeb and his students have been tackling the problem for more than 10 years and have slowly come up with ways to circumvent the daunting problems involved in achieving this basic task.
Some of the challenges have included monitoring changes in voltage and current without cutting the main incoming power line to a home, analyzing the data flowing in from the high-speed sensors, and figuring out how to extract useful information and display it in a user-friendly way.
According to Lee, once the system is commercialized, it should cost only about $25 to $30 per home.
"We're trying to lower the barriers to installation, and this noncontact sensor is simple enough for most home users to install on their own. It just goes on with a zip tie," says John Donnal, a graduate student involved with the research.