Out-of-hospital cardiac arrest affects 55 of 100,000 inhabitants annually in the U.S. alone, with a survival rate of only eight to 10 percent. The most important factor for improving survival outcomes is reducing time to defibrillation.
Swedish researchers have demonstrated how this can be done: use unmanned aerial systems. A specially constructed drone equipped with a defibrillator can be dispatched by alarm and delivered automatically to the site of a cardiac arrest long before an ambulance arrives.
A drone equipped with an ambulance-like defibrillator was developed and tested by FlyPulse AB, Karolinska Institutet, and Stockholm South General (Söder) Hospital. The craft was dispatched and automatically flown out of view of the pilot within a radius of 10 kilometers. It was test-flown to the exact destination to which an ambulance had driven on 18 incidents of cardiac arrest between 2006 and 2013 in the Norrtälje municipality in Sweden; their respective arrival times were then compared.
The drone had a response time from alarm to being airborne of only three seconds and an average time from alarm to arrival at the scene of cardiac arrest of approximately five minutes, 16 minutes shorter than was stated in the ambulance records.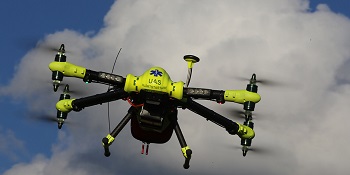 Drone during flight. (Source: Karolinska Institutet)
"In areas with longer ambulance response times of up to 30 minutes, the chances of surviving a cardiac arrest are tiny," explains Andreas Claesson, paramedic and lead researcher at Karolinska Institutet's Centre for Resuscitation Science. "Drones able to deliver defibrillators can reach the patient inside the first few minutes and are thus a new and important complement to existing emergency services. With an early shock from a defibrillator within the first three to five minutes after cardiac arrest, up to 70 percent of patients can survive the event."
The researchers were given permission by the Swedish Transport Agency and the Swedish Civil Aviation Administration to fly out of sight and were therefore able to demonstrate the great potential that drones have to save lives in the event of cardiac arrest.