Texas Instruments has introduced two 36-V, 2.1-MHz synchronous buck regulators that eliminate switch-node ringing to reduce electromagnetic interference (EMI), improve power density and operate in deep drop-out conditions. The 2.5-A LM53625-Q1 and 3.5-A LM53635-Q1 regulators are designed for high-voltage DC/DC step-down applications such as automotive infotainment, high-end cluster, advanced driver assistance systems and body power-supply systems.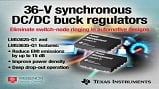 LM53625-Q1 and LM53635-Q1 synchronous buck regulators. Source: Texas Instruments
Switch-node ringing is inherent in all switch-mode power supplies. By reducing parasitic inductance and capacitance in the LM53625-Q1 and LM53635-Q1 regulators, these power solutions lower noise and EMI emissions by up to 15 dB at the system level, which requires less external EMI filtering, saves printed circuit board area and simplifies compliance with CISPR 25 automotive EMI requirements.
The regulator has a 3.5-V to 42-V operating range and handles start–stop and load-dump conditions for 12-V lead acid automotive batteries. It provides up to 93% efficiency at 2.1-MHz operation to support compact and high-temperature conditions in automotive applications. Low 18-uA quiescent current in standby extends battery life in "always on" applications.
Dropout voltage is less than 0.6 V under full load and temperature conditions, enabling compliance with stringent cold-crank and start–stop conditions, saving system cost and solution size.
Offered in a 22-pin, 4-mm-by-5-mm very thin quad flat no-lead package, the LM53625-Q1 is priced at $2.79 in 1,000-unit quantities, and the LM53635-Q1 is priced at $3.22 per unit.