Vishay Intertechnology, Inc. has introduced an Automotive-Grade IHLP® low-profile, high-current inductor in the 5050 case size. It features a +180° C continuous operating temperature rating for under-the-hood applications. Offering a low 6.4 mm profile, the Vishay Dale 
IHLP-5050FD-8A
 provides a wide range of inductance values from 0.22 µH to 22 µH.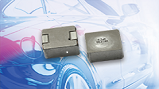 IHLP inductor in 5050 case size. Source: Vishay
With a frequency range up to 2 MHz for energy-storage inductors in DC/DC converters and up to the inductor's SRF for filter applications, the device exceeds AEC-Q200 requirements to provide a high-performing, space- and power-saving solution for DC/DC converters and high-current noise filters in high-temperature automotive systems. Applications include engine and transmission control units, diesel injection drivers, noise suppression for motors, windshield wipers, HID and LED lighting, heating and ventilation blowers, and other applications requiring high-temperature operation.
The IHLP-5050FD-8A handles high transient current spikes without hard saturation. Packaged in a 100% lead-free, shielded, composite construction that reduces buzz noise to ultra-low levels, the device is specified for an operating temperature range of -55° C to +180° C, and resists thermal shock, moisture, mechanical shock and vibration.