Molex  has introduced the Micro-Fit™ TPA Single Row Receptacle, which offers a TPA (terminal position assurance) integrally molded with the housing. The integrated TPA feature ensures terminal seating.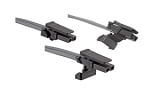 Micro-Fit™ TPA Single Row Receptacle. Source: Molex

The reduction in terminal back-out is made possible by ensuring proper terminal seating and providing a secondary terminal retention feature. For example, assemblers cannot close the TPA unless the terminal is properly seated. Also, the receptacles provide backward compatibility with existing Micro-Fit 3.0™ connectors and terminals, eliminating the need to make major revisions or investments in their applications and enabling running change implementation to incorporate the new TPA receptacle.
Applications for Micro-Fit TPA Single Row Receptacles include consumer and home appliances, data/computing (desktops, workstations, power supplies and UPSs), telecommunications/networking (servers, routers and switches), and automotive/commercial vehicles (harnesses, non-sealed applications and inside devices).
Single-row, wire-to-wire and wire-to-board configurations are available immediately with two to seven circuits.