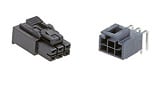 Molex has introduced 
Nano-Fit™ Power Connectors
, which provide terminal protection with the smallest fully isolated terminal power connector in the market, as well as keying options to ensure proper mating and a terminal position assurance (TPA) feature which virtually eliminates terminal back out.
When utilizing multiple headers with the same circuit size on one PCB, assembly becomes complicated due to possible mis-mating of a receptacle to the wrong header. With their different mechanical keying options, Compact Nano-Fit Power Connectors help designers reduce the risk of cross mating while improving assembly speed with multiple color and mechanical keying options.
Other features of the fully isolated connectors include:
Up to 69% smaller in the X-axis than competitive products
2.50 mm pitch
Ultra-low mate force terminals
Optional TPA retainer
Small size and 6.5A current rating are ideal for power or signal applications
In assembly operations, the connectors' ultra-low mate force terminal reduces operator fatigue and improves assembly compliance for high-circuit applications, and the positive-lock housing with an anti-snag design ensures mated connector assemblies will not accidentally disengage. The connectors provide an audible click during mating.