German materials house Hoffman + Krippner, Inc. has introduced a polymer strain gauge-- based on the company's sensor paste technology-- for measuring pressure in applications.
The sensor paste is directly printed onto a PCB board, does not need to be connected by wires and is extremely sensitive to slight pressures. With a small deformation to the paste, the polymer strain gauge generate a change to its electrical resistance generating an analog signal to enable measurement, input and control in applications. The paste requires no moving parts and can be very accurate and long lasting, said Hoffman + Krippner.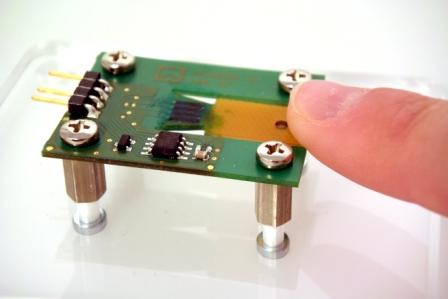 With no moving parts, the polymer strain gauge can be directly printed onto a PCB board for compact and affordable designs. Source: Hoffman + Krippner Possible uses for how the sensor paste could be used include sensors for displacement and angle measurements, sensors for pressure and temperature measurements, flexible displays, illuminated products, polymer resistive track on PCBs, freely programmable keypads, intelligent textiles and printed batteries.
The polymer strain gauge would be fitting for applications, like musical instruments, control switches for DJ audio mixing gear, measuring pressure distribution inside shoes, silent keyboards, inventory control in grocery stores and vending machines, automotive touch screens or hazardous areas where a tiny spark from keys closing an electrical circuit could start a fire or explosion.
To contact the author of this article, email engineering360editors@ihs.com