The market for global shipments of solid-state drives (SSDs) is poised for dramatic growth over the next few years driven in large part by the expectation of strong demand for ultrathin PCs. A lot is riding, however, on whether the pent-up demand for these lightweight laptops will materialize.
Intel had high hopes in 2012 for a surge in interest for its branded Ultrabook, but expectations didn't pan out. This year, however, Ryan Chien, an analyst covering SSDs and storage at IHS, sees the ultrathin PC category taking off and being a major driver for SSDs over the next few years.
IHS is projecting shipments of Ultrabooks and other ultrathin PCs will account for 28 percent of mobile PCs this year, up from 9 percent last year. What's changed since 2012, Chien said, is that the lower $600-to-$700 price range for ultrathins is more attractive to consumers, and Intel's OEM partners are now able to hit these lower price points.
Consequently, Chien is calling for SSD shipments to grow by 115 percent in 2013, from 38 million units in 2012 to 83 million this year. The pace of annual growth will moderate somewhat through 2016 when he expects SSD makers will ship 239 million units, equivalent to about 40 percent of the hard disk drive (HDD) market.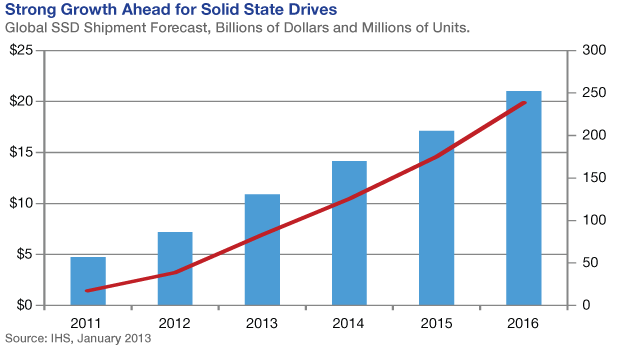 But Don Jeanette, director of product marketing at Toshiba, has his doubts. "I know that Intel is hoping the Ultrabook will take off," he said, but he doesn't believe traditional notebook suppliers intend to transform enough of their volume-selling SKUs over to the higher-priced Ultrabooks.
Ryan Smith, senior manager for SSD product marketing at Samsung, agrees. He believes PCs and traditional notebooks will remain the main unit drivers for SSD growth.
In 2012, Intel-branded Ultrabooks accounted for about one million SSDs for SSD-only models excluding cache SSDs, Smith said, quoting analysts. This compares to 25 million for PCs and notebooks. If Ultrabooks grow by three times this year, "you'll definitely be seeing a pretty healthy ramp. But you can't compare that number of SSDs to those in traditional notebooks, which are expected to grow by two times in 2013."
So what will set SSD sales on fire this year if not Ultrabooks?
Samsung's Smith points to the aggressive pricing that has occurred in SSDs over the last six to nine months. The oversupply situation last year allowed prices to dip under $1 per gigabyte. As a result, the Web exploded with ads encouraging after-market consumers to upgrade their notebooks. "The word got out that not only are SSDs affordable, but the industry is no longer hampered by early technology issues," he said.
And awareness that smartphones and tablets also use SSDs to bring consumers the kind of experience they enjoy – from their phones turning on instantly to not having to wait when switching from app to app – brought further awareness of what SSD technology can do.
"People are beginning to understand that replacing the hard drive in their notebook and upgrading with an SSD is important to them," Smith added. "So there are lots of sales drivers out there. Ultrabook is one of them. But I disagree it's the main driver."
Ups and downs of NAND
In early 2012, there was an oversupply of NAND flash chips, which are used in SSDs, as a result of OEMs gearing up for strong sales of Ultrabooks, tablets and smartphones. However, the first two of these failed to materialize.
This caused an oversupply of NAND in the second quarter of 2012, which then dropped to "a low single-digit undersupply in the second half" when manufacturers cut production, said Chien. "We are starting 2013 with a little bit of extra capacity," he said. "SSD makers don't want to leave money on the table."
But Samsung's Smith sees the potential for some shortages of NAND flash ahead. He explained that 66 percent of all the devices are being consumed by three popular consumer products: tablets, phones and SSD. The latter consumes about 20 percent of all flash. And with new smartphones constantly being introduced, there's a huge demand for SSDs and for NAND.
"Couple that with the fact that many NAND suppliers didn't make much of a profit last year and, as a result, many didn't reinvest back into capital equipment," Smith said. "Thus, there could be supply constraints coming."
As a result, the expected price decreases might not be as large as they were in the last two years when prices dropped 30 to 35 percent per gigabyte.
"That was really nice for consumers," Smith said. "What cost you $10 in 2011 only cost you $6 in 2012. That's been a driver of growth for SSDs and has really helped its adoption."
Still, IHS warns that demand for NAND in the longer term may moderate as a result of mobile users relying more on streaming services and cloud storage than internal memory, which may reduce the demand for NAND. Indeed, memory capacity per cellphone declined to 12.8 gigabytes (GB) on average in the first half of this year, compared to 13.2 GB the same time in 2012, according to a recent analysis of a number of portable devices conducted by IHS.
What is the short-term advice analysts and SSD makers have for OEM buyers of SSD this year?
At the top of the list is to buy from sources you know have access to NAND components.
"There are so many SSD players now that buyers can shop around," said Samsung's Smith. "But this year it will definitely be important to pick a vendor with guaranteed access to NAND, and the most obvious choice would be to pick one that has its own flash capacity."