After years of searching for a better way to keep computers and other electronic devices from losing data when their power is shut off, Intel Corp. and Micron Technology Inc. are gearing up to produce a new kind of memory chip that's not only "non-volatile" – allowing it to retain data when powered off – but also faster, cheaper and longer lasting than NAND flash, which dominates the current non-volatile memory market.
The companies unveiled their jointly developed 3D XPoint (cross point) memory chips at a press conference last July, touting them as "the first new memory category in more than 25 years." And while they may not reach full production during 2016, as planned, 3D XPoint sales should be underway at least by early 2017 and are forecast to grow quickly. Data storage consultant Coughlin Associates expects the new chips to generate between $663 million and $1.5 billion in annual sales by 2020. Analysts expect the new technology to help computer users with Big Data analysis and other memory-intensive tasks, and to allow Intel to sell faster processor chips.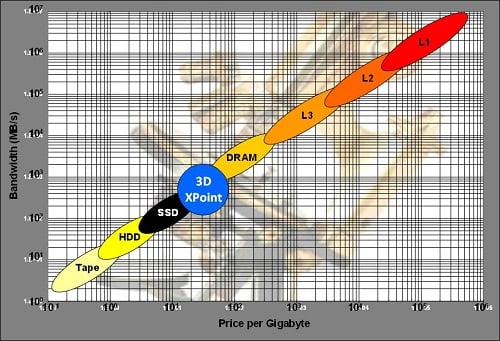 The new memory chips from Intel and Micron offer performance and cost between DRAM and the NAND flash memory used in SSDs. (Source: Objective Analysis)
Intel and Micron say the initial 128 gigabit (Gb) 3D XPoint chips will be up to 1,000 times faster and more durable than NAND memory. NAND chips, which generated $28.8 billion in worldwide sales last year, are widely used for data storage in cellphones, PCs, solid-state drives (SSDs) and other products. But they read and write slowly, their data can only be erased in large blocks and they wear out faster than other memory types. They are also nearing the limits of how small their circuits can be built.
Cross point chips, on the other hand, can read and write data in individual bytes and their relatively simple memory cells offer a clear path to future size and cost reductions.
Still no universal memory
Despite those advantages, 3D XPoint is not likely to become the long-awaited "universal memory" the industry has been seeking to replace both NAND flash and conventional dynamic random-access memory (DRAM) chips. That's because DRAM chips, even though they lack the non-volatility of 3D XPoint, are significantly faster, which assures them a continued role in many high-performance systems.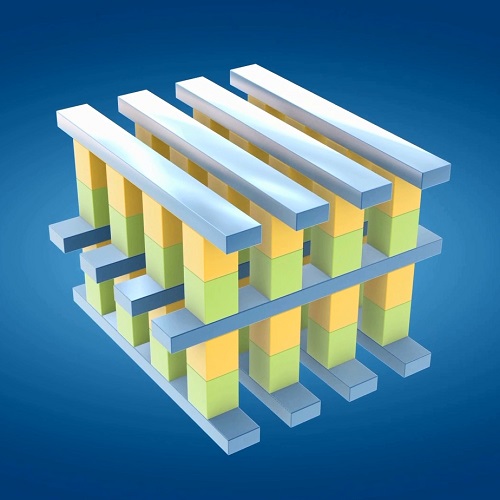 Vertical memory cell columns, made of an undisclosed material, change resistance to store data in the new 3D XPoint chips. (Source: Intel)
Also, while 3D XPoint memory is expected to cost only about half as much as DRAM, NAND flash remains even cheaper. And the latest 3D NAND technology, which increases storage capacity by stacking up to 48 layers of memory cells, will only increase that cost difference. As a result, analysts say, 3D XPoint will probably have to coexist with, rather than replace, DRAM and flash memory.
Alan Niebel, CEO of Web-Feet Research, notes that the semiconductor industry has been developing numerous alternative non-volatile memory technologies – including ferroelectric random-access memory (FRAM), magnetic RAM (MRAM), resistive RAM (ReRAM), memristors and phase-change memory (PCM). Each technology has certain advantages, and shortcomings. But thus far, none has achieved enough of a cost-performance advantage to displace flash memory or DRAM.
"There's lots of irons in the fire," Niebel says. "Cross point is only the first of a whole class of persistent memories that are being developed."
Jim Handy, director of market research firm Objective Analysis, says that chip companies continue to develop new kinds of memory in the hope that the established technologies will eventually be unable to shrink any further. "What's different about cross point," he says, "is that Intel and Micron don't need to wait for a scaling limit. They're inserting it between NAND flash and DRAM, and trying to create a new tier in the memory hierarchy."
Mysterious materials
The companies' new 3D XPoint chips consist of two layers of sub-microscopic vertical memory-cell columns sandwiched between perpendicular rows of thin metal wires, which allow each cell to be individually addressed by selecting its top and bottom wire (see illustration). Intel and Micron haven't disclosed what the memory cells are made of, revealing only that they use a "bulk material" that stores data by changing its electrical resistance.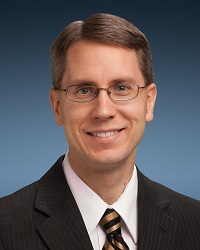 Micron's Michael Abraham (Source: Micron Technology)
Michael Abraham, Micron's 3D XPoint business line manager, won't elaborate on that material. He notes, however, that Micron has been working on phase-change and other new memory technologies for a long time and actually shipped about 10 million PCM chips a few years ago. "What I can say is, we've had a number of years of work on the materials for this memory, and we've also learned from some of the other emerging memories we've worked on," he says.
He concedes that for 3D XPoint chips to succeed, they must remain significantly cheaper than DRAM with better performance than NAND flash. "3D cross point has to hunt very nicely between DRAM and NAND," he says. To ensure that it does, the companies plan to use a leading-edge 20 nanometer process to build the chips at their jointly owned 300mm fab in Lehi, Utah.
Initial markets
Intel and Micron plan to initially sell 3D XPoint chips in SSDs and dual in-line memory module (DIMM) cards. Early customers are expected to include large data-center operators such as Amazon, Google and Microsoft, which require lots of memory to handle their massive databases.
Objective Analysis' Handy expects SSDs to be the first sales target for 3D XPoint memory. "The software is already in place, so they don't need to do an awful lot to sell there," he says.
Another promising market – which will require further architecture and software development – is "in-memory computing," which uses large amounts of semiconductor memory, rather than hard drives, to accelerate difficult processing tasks. Abraham says that equipping servers with 3D XPoint memory could save users money, while allowing them to work with much larger data sets.
Handy doesn't expect 3D XPoint to be profitable for Intel and Micron until at least 2018 or 2019, but he believes Intel has another, more lucrative, reason for investing in this new memory technology. "I don't believe Intel's actually looking to make money on cross point memory," he says. "What Intel is doing instead is, they're enabling the platform so that they can sell faster processors."