Let's go back to the year 1989, when the film Back to the Future Part II was released.
In the film, Marty McFly can be seen riding a hoverboard in what is set as the year 2015. This was what the movies' creators predicted 2015 would look like – people riding skate-board looking contraptions that transported them around via a hovering effect.
Well, they weren't far off.
Though we may remember the concept from the Back to the Future II movie, it is important to point out that the notion of a self-balancing two-wheeled board should actually be credited to science fiction author M.K. Joseph who originally described a hoverboard as a fictional skateboarding device that floats above the ground, in a 1967 novel.
Fast-forward to 2014, when a California-based start-up unveiled the proof-of-concept "Hendo Hoverboard," a self-powered platform that actually levitated and could carry the weight of an adult. The hoverboard employed magnetic levitation technology and a company-created 'Hover Engine.' But that was just the beginning of the hoverboard craze.
Over the past year, the word "hoverboard" has been widely popularized, and even added to the Oxford English Dictionary. Even auto manufacturer Lexus got in on the action when it revealed its fully functional hoverboard, which used magnetic levitation and liquid nitrogen cooled superconductors to create frictionless movements.
There have also been a series of devices that claim to be hoverboards, but are really just ground-gliders.
With that said, one man has taken this hovering technology to an unprecedented level and plans to commercialize his fully functional flying board – soon.
Frank Zapata, known for his French water-based vehicle company, Zapata Racing, recently achieved a world record. Flying a distance of 1.3 miles, at speeds nearly 40 mph on a real-life flying board.
The Flyboard Air is Zapata's first attempt at entering the flying realm, a dream he also attained from watching the film Back to the Future II.
"I tried to find the most fun way to fly," Zapata said in an interview.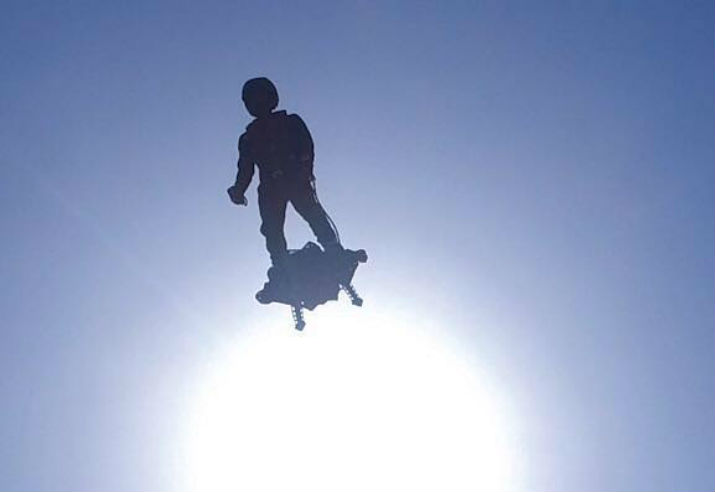 Zapata demonstrates the capabilities of Flyboard Air. (Image via Zapata Racing)
And so he did. With the help of his team of engineers, Zapata developed the Flyboard Air, capable of autonomous flight up to 10,000 feet, top speeds of 93 mph and 10 minutes of free-flying autonomy.
Surprisingly, Zapata delights in the fact that the technology behind the vehicle "really isn't that difficult." It consists of four turbojet engines, and Independent Propulsion Unit, and a stabilization system specifically designed by the company.
Although the technology behind the board is basic, the team still had to face developmental challenges. One such challenge was creating a flying system that was different from typical drone systems. If they were to use the same kind of technology, the pilot wouldn't be in control, according to Zapata.
His goal was "to stabilize the human and let the human have control" while in flight. Over the last two weeks, Zapata has incorporated a new switch into the board that will provide the flyer with even more control.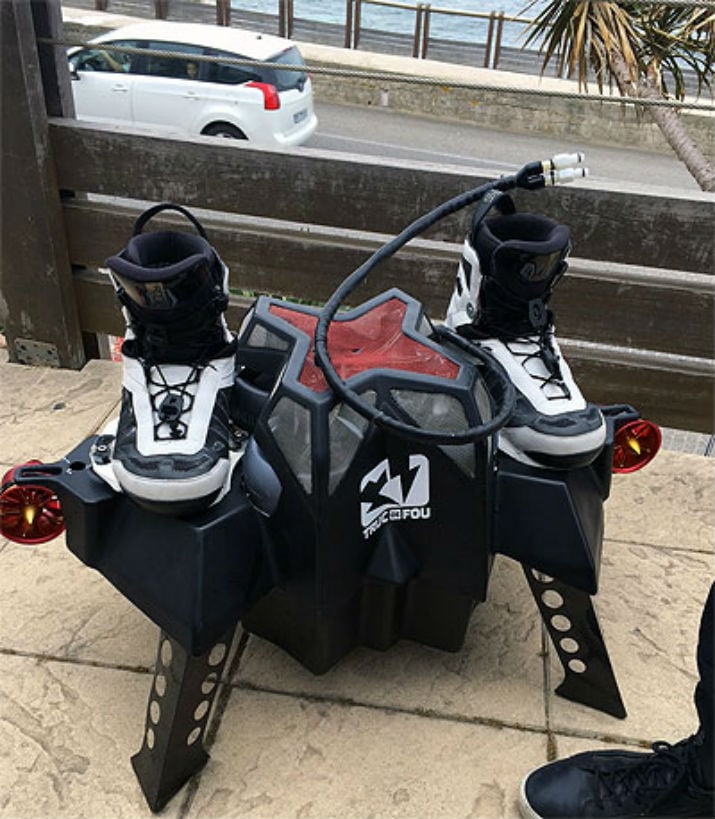 Zapata's Flyboard Air. (Image via Zapata Racing)
And it doesn't look like this hoverboard was made for the sole purpose of publicity, either.
"The plan is to be able to sell it one day," said Zapata.
Of course that will require some additional development and government approvals, which Zapata is confident about since the company now has the time and funding to work on this product.
"It's more than a dream now," he added.
The company's next steps will include setting up a type of "superhuman competition" in which racers will be able to compete against one another on a Flyboard Air.
"We have crazy things in mind," Zapata said about the future of the Flyboard Air.
Though flying may be a popular dream for many of us ground-based humans, even Zapata admitted that he was nervous for months prior to his actual demonstration, admitting that his legs were shaking beforehand.
Once he learned how to control and maneuver, his fears lessened.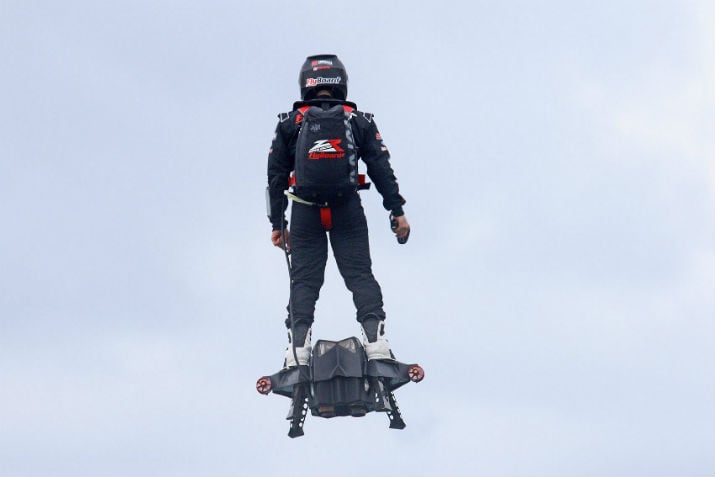 Zapata in flight. (Image via Zapata Racing)
"I felt the freedom of flying," said Zapata.
Something we may all actually be able to look forward to in the not-so-distant future.