Diamonds aren't just appealing to the eye; they actually possess properties that make them model semiconductors.
Semiconductors, solid substances that hold conductivity between that of an insulator and that of most metals, are required to meet the rising demand for more efficient electronics that deliver and convert power.
Researchers from the University of Wisconsin-Madison and the University of Texas at Arlington have now taken an important step toward prepping diamonds for their debut as semiconductors, with a new way to dope a single crystal of a diamond, which is a crucial process for developing electronic devices.
"We need the devices to manipulate the power in the way that we want," said Zhengqiang (Jack) Ma, an electrical and computer engineering professor at the University of Wisconsin-Madison.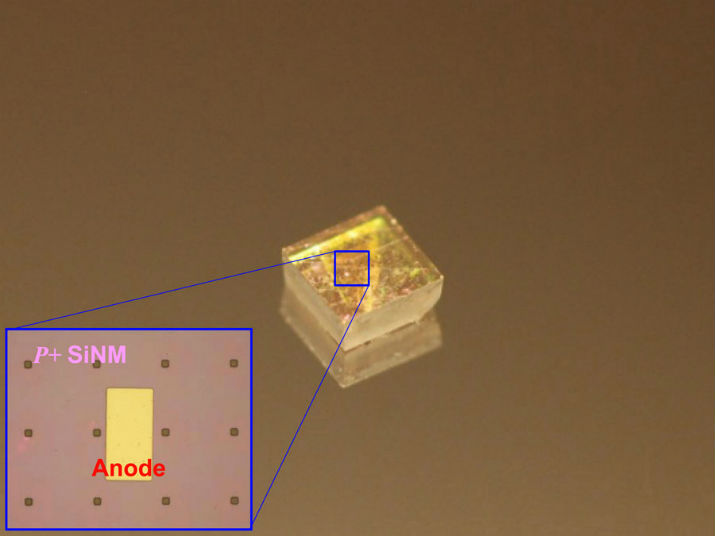 Optical image of a diode array on a natural single-crystalline diamond plate. (Image Credit: Jung-Hun Seo)
The team thinks that diamonds could be the perfect material for power electronics because they are thermally conductive, so diamond-based devices would dissipate heat quickly and easily, and eliminate the need for bulky and expensive cooling methods. Diamonds can also handle high voltages and power. Electrical currents also flow through diamonds quickly, meaning the material would make for energy- efficient devices.
Doping can be a difficult thing to do when it comes to diamonds because of the material's rigid crystalline structure.
Currently you can dope diamonds by coating the crystal with boron and heating it to 1,450° C. The problem is that the boron coating is difficult to remove.
This method only works on diamonds consisting of multiple crystals stuck together, but these types of polydiamonds have irregularities between the crystals, so single crystals would be far better semiconductors.
In order to dope single crystals, boron atoms need to be injected while the crystals are grown artificially. The problem is the process requires powerful microwaves that can degrade the quality of the crystal.
What the team discovered was that it could dope single-crystal diamonds with boron at relatively low temperatures and without any degradation. The researchers discovered that if you bond a single-crystal diamond with a piece of silicon doped with boron, and heat it to 800°—a low temperature compared to the conventional techniques—the boron atoms will journey from the silicon to the diamond.
Their newly discovered technique also allows for selective doping, which offers more control when making devices.
"We feel like we found a very easy, inexpensive and effective way to do it," Ma said.
The researchers are now working on creating a simple device using P-type single-crystal diamond semiconductors.
In order to make electronic devices like transistors, N-type doping will be required. That type of doping gives the semiconductor negative charge carriers (electrons).
This method is still in the making, with the team needing to overcome barriers such as diamond costs and the fact that single crystals are very small.
However, Ma believe that achieving P-type doping is an important step, and could inspire others to find solutions for the remaining challenges. The team believes that eventually single-crystal diamonds could be useful everywhere, even for delivering power through the grid.